The famous groundhog, Punxsutawney Phil, did not see his shadow on February 2 so that means an early Spring, according to legend.  In honor of Phil and an early Spring, let's explore some light and fresh interiors for Spring inspiration.
After long winter nights, it is natural to crave a bit of sunshine and light in your home.  Take advantage of the longer days with lighter window treatments and a fresh palette in your living room.
Mint green walls give this modern space a fresh appeal that is ripe for Spring.  Bold reds and blues accent the space.  Try adding a few bold pieces to your décor for a nod toward budding colors of the season.
Is there a fresher, more Spring-like color combination than green and yellow?  These colors work so well to create a space that is bright and sunny.  Add accents of blue for variety.
This green and yellow color scheme includes peach and creates a very serene living room.
A subtle vine wallpaper enhances this dining room.  The mirrored furniture and cascading chandelier add glamour.  Seat upholstery is reminiscent of new sprouts on trees.
White and cream walls along with neutral furnishings is an ideal way to give a home a clean, fresh appeal.
Painted bamboo mirror frames accent this pastel dining room.  Fresh flowers adorn the table and white accents complete this appealing Spring-like room.
A pop of bright color is a way to bring Spring to your home.  Orange, carried through these rooms in window treatments, upholstery, flowers and pillows creates a room that is sunny and inviting.
Pretty colors inspired by a painting and accented with yellow and gold accents give this room a Springtime essence.
Turn a neutral room into a Spring awakening with bold fuchsia.
Add a vase of tree blossoms to a room for an instant Spring boost.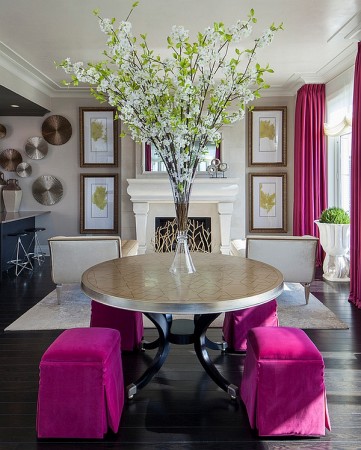 This beautiful dining room in soft neutrals and greens has a refined and tranquil vibe.
Whether Phil the groundhog's predictions come to be or not, enjoy a little Spring in your interiors with fresh colors.  Bring light into your rooms and ease into the warmer season.