The open concept home offers many advantages to modern living and design.  This style of home appeals to a broad spectrum of home buyers.  Those wishing to down-size and simplify their lives may find the open concept welcoming.  If living with a multitude of walls and divided living areas begins to feel claustrophobic, this type of home layout is ideal.  Here are 6 great reasons to love an open floor plan.
1.  Clear Sight Lines
If you like to entertain or have children that you like to keep an eye on, the open floor plan home is ideal.  The open sight line from the kitchen into the central living area is perfect for those that like to be a part of the action while cooking or prepping meals.  Having the dining area open to the kitchen also makes serving meals more convenient.  The open concept home offers peace of mind for parents who like to keep an eye on their kids while working in other rooms of the house.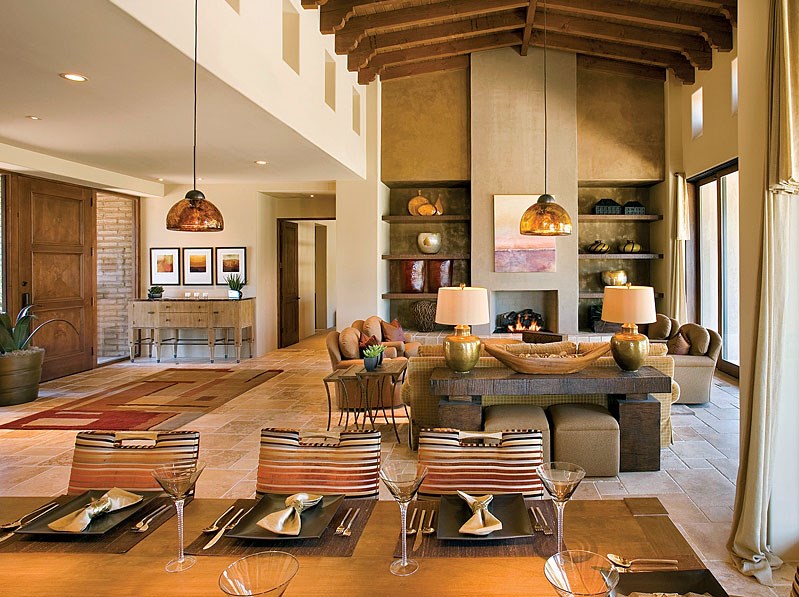 2.  Uncomplicated Design
When you're designing for one open space, keep the design simple and uncomplicated for a better flow.  This helps to maintain a clean, clutter-free environment.  You can create sections within the open space and integrate a common theme throughout with color and furnishing style.  The end result is a pleasing cohesive look.
3.  Open Space
Open space allows you to actually take optimum advantage of the home's square footage.  There is no wasted space with walls in odd places.  In addition, the space is brighter as natural light is shared throughout the entire space.
4.  Great Flow
With no walls to impede the flow, the open concept home offers a simple floor plan that appears more spacious.  Even homes with less square footage appear larger with an open floor plan.
5.  Economical
Heating and cooling for an open concept home may prove more economical, as the air is shared centrally without walls to block the flow.  Ceiling fans can offer increased air circulation throughout the space as well.
6.  Versatility
You can change the layout of areas within the space as your needs change.  You can even add walls later on if the open concept home no longer appeals to you or your lifestyle.  Furniture placement can be readily changed to accommodate guests or just for a different look from time to time.
The open floor plan is a concept that remains to be highly requested in the home market.  Given its versatility and universal appeal, the open concept home offers advantages that the modern home owner appreciates.  This style of home offers the optimum use of space and versatility for entertaining and daily living.  The open concept floor plan breaks down the walls and opens up a home for uncomplicated design.