For many homeowners, color is priority number one, and the same is probably true for you! How you paint your kitchen cabinets is a personal decision because of many reasons. Apart from the fact that we're naturally attracted to our favorite shades, it's also worth mentioning that different colors set different moods.
You kitchen color can also define your personality, which explains why many renovators strive to meet a homeowner's painting requirements. In this post, we'll discuss antique white kitchen cabinets to help you make a better decision.
What to Consider When Picking a Color(s) for Your Kitchen Cabinets
It's true everyone has their favorite color. But there are times when you know your favorite shade won't work. Or you need to go outside your comfort zone and try something different than the usual.
Here's a checklist of the things to remember when choosing color;
The darkness (or size) of the space.

 Bright colors can light up dark rooms while dull painting can make a small room look gloomier.

Existing theme colors. 

Your home has a theme color, make sure whatever paint(s) you choose blends perfectly with current colors.

Do a blend or Go single? 

Are you after a single color

 

or a color palette?

Existing appliances. 

Of course, your color must harmonize with existing appliances unless you are planning to buy new sets to match your new looks.
That said, let's pros and cons of antique white cabinets to help you make a wiser decision.
Advantages of Antique White Kitchen Cabinets
1. They brighten a kitchen giving the impression of a larger space
White reflects light. Painting your cabinets white can make your small dull kitchen look roomy and bright. 
Lighting is vital for a small cooking area, and white cabinetry is one way to complement your pendant lights at night or reflect natural light during the day.
 2.

White is clean and classic 
White cabinets go way back, and are still popular for two reasons. One, they leave you with a bright, tidy, and lively kitchen. And two, they are a design standard, and a smart way to avoid painting mistakes.
Lastly, white cabinets serve as a backdrop to a kitchen, allowing other kitchen décors to stand out.
3. Painting cabinets white can increase the chances of a better resale
If you're staging your home for a resale, then antique white kitchen cabinets is a profitable way to go. Why? For the simple reason that most homeowners and homebuyers prefer it. 
With white, it is easier to figure out where to start with your interior design. 
They are also easier to blend with existing furniture, and many homebuyers want something that harmonizes perfectly with what they already have.
4. They never fade away
Well, white cabinets are a standard feature in Kitchen Design and a trend that never fades away. You go white; you get it right for many reasons.
First, you avoid making tough color decisions, and second, you follow a standard trend that will remain relevant until you plan your next renovation.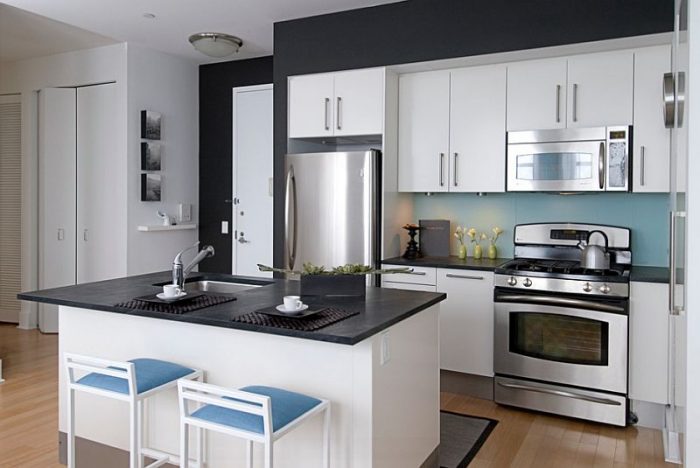 5. Easy to Modify 
Finally, on pros, you can always tweak your white cabinets to match different moods or prepare for different seasons. It's easier than when you have to deal with other colors or a palette.
Disadvantages of Antique White Kitchen Cabinets
1. Stains and dirt can be a pain in the neck 
Your white cabinets may look clean, bright, and welcoming at first, but dirt can make them stressful with time. They attract as much stain as possible, and dirt can really "stand out" in a white background.
While that can keep you on your toes periodically in terms of renovation, but what happens when your budget is constrained? Or you don't have the time to maintain white cabinets?
2. You can see wear and tear as they age
Of course, all cabinets age with time and are prone to scratches. The problem with white is how much it shows off every scuff in your kitchen. 
Wearing and tear can make a white kitchen look ugly because one can easily point out mistakes. Dull colors are a better way to maintain your kitchens looks even after a long time.
3. Too many hues
White has many variations, which makes it a tricky choice sometimes. What looks appealing in an image may not meet your expectations at a close glance. For instance, antique white is very different from pearl white.
Lastly, white cabinets can look lonely and cold and give the impression of a healthcare facility, which is not the mood you want in a cooking zone.
Wrap Up
Now that you know the pros and cons of antique white kitchen cabinets, it is easier to make a better decision when it comes to colors. Remember to consider the factors discussed in this post when choosing your kitchen cabinet.