The kitchen island is often a gathering spot in the home.  It is a place where casual meals are shared, homework is done, party guests mingle with the host and meals are prepared.  For such a central spot, it is important to have stylish and functional seating.  Here are eighteen stylish bar stools for your kitchen to give it a welcoming and unique character.
The modern kitchen relies on sleek design and unique lines.  To accent this style, bar stools of interesting shapes and materials add character to the kitchen.  Play with colors, try out unique designs, use solid wood bar stools, or mix combinations of engineered materials.
Bar stools enhance the character of your kitchen.  Styles that are rustic or industrial in nature have an appeal that blends well with traditional or modern kitchens.  Sometimes a sleek and simple design is all that is needed for the perfect fit.  Or you can opt for something that enriches the character of your kitchen.
There is nothing basic about the backless bar stool.  Styles run from classic wood and leather to sculptured wood that calls out for attention.  Some styles are like having functional art in your home.
If you enjoy a more traditional seating option with more support, these bar stools deliver.  The upholstered bar stool allows you to play with pattern and texture with various fabric choices.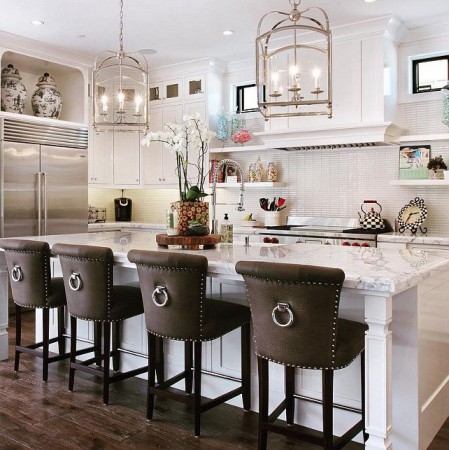 Pull up some bar stools to your kitchen island for a stylish seating option.  For a more eclectic look, mix and match colors and styles.  Choose bar stools that fit your lifestyle and your space.  There is a myriad of unique bar stool options.  So, raise the bar on function and character in your kitchen with stylish bar stools.