Luxury log cabin homes appear to be at one with nature. This is because of smart design choices. Designers make the home blend in with nature. Indeed, log cabin owners love nature. Therefore, they respect the natural setting.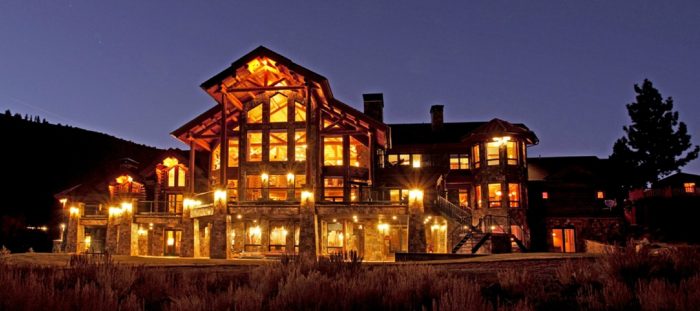 This log home illuminates the night. It appears to rise out of the landscape. What a gorgeous home.
Certainly, these owners dream of sitting out on the deck. What an amazing space. This makes a deck an absolute must have!
In fact, designers situate cabins to make stately approaches. This cabin is reflected in a clear blue lake. Certainly, the owners treat visitors to a delightful first impression! This is lakeside living at its finest.
Of course, ancient trees are a unique feature. In fact, these gnarled trees grace the front door. Also, notice the deer antler chandelier which lights the way at night. This is a grand entrance. However, the trees add a whimsical touch.
In addition to lakeside cabins, we love mountain retreats. Indeed, architects design cabins to appear to rise from the mountains. Amazing! Access to nearby ski slopes is a must.
Also, designers incorporate native stones. They select natural materials. This adds authenticity. Builders choose with care because it's important to the look.
Finally, details matter. A fire pit is important. Log home owners love nature. They love to sit outside. Enjoying an evening around the fire is part of the lifestyle. This is relaxing. In addition, they enjoy family time.