Fall is quickly approaching and as the temperature drops outside, it is time to raise the temperature inside.  Creating autumn-inspired rooms calls for warm colors, natural accents and cozy embellishments.  Here are rooms that inspire you to snuggle up and welcome in a new season.
Color is a simple and effective way to add warmth to a room with autumnal hues.  Burnt orange, brown and moss green create interiors that evoke foliage at its peak.  Even slight color changes brought in with accessories can add a touch of autumn to your rooms.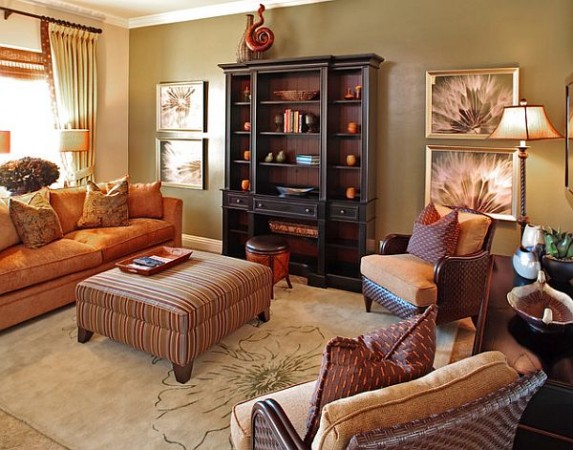 Accessories from nature bring the beautiful colors and textures of fall into your home.  Branches of colorful turning leaves, pine cones, pumpkins, gourds and chrysanthemums weave their autumnal magic.  Soft lighting casts a warm glow over everything and warm tones of wood furniture and accents create a welcoming space.  Add dashes of color, texture and softness with pillows and throws in beautiful fall colors.
Immerse your rooms in comfort with fall-inspired pillows and throws.  They bring color, texture and warmth to your space and welcome snuggling.  Drape colorful and cozy throws over chairs and ottomans.  Pad the back of the sofa and chairs with extra accent pillows.  Place soft area rugs in the room for added warmth and comfort.
Warm up your interiors and embrace fall with color, accessories and comforting embellishments.  Create rooms that entice and envelope you and your guests in autumnal bliss.  As nature passes through another season, bring it indoors to enjoy in your home.  Sit back against plush pillows, prop up your feet and cuddle up in a soft blanket to enjoy the fall.