Beat the winter blues with denim blue in your home. Denim inspired paint colors are the new blues for 2017.  Because of the wearability of denim, it's easy to visualize how to put together a denim blue room. The vibe of a denim blue room is casual and fun!
Of course, these denim shades offer an array for your choosing. Pick a shade from light acid washed denim to indigo. These are the shades to use for inspiration. Pairing them up with your furniture is a simple a pulling on your favorite pair of blue jeans. Because you are familiar with what colors to wear with denim, it's a fun makeover.
Of course, you can read on for some fun, denim inspired decorating ideas.
Certainly, painting an entire living room indigo is not for the faint of heart. Because it's a saturated color, an accent wall is a great option. Pair it with neutral furniture. Punctuate the room with additional blue pieces for a cohesive look.
Undoubtedly, you love the color of vintage denim. It's that perfect shade of medium blue. In particular, this living room takes its cue from that iconic blue jean. The tan sofa pops against the vintage blue wall. Because it's inviting, it looks cozy and friendly.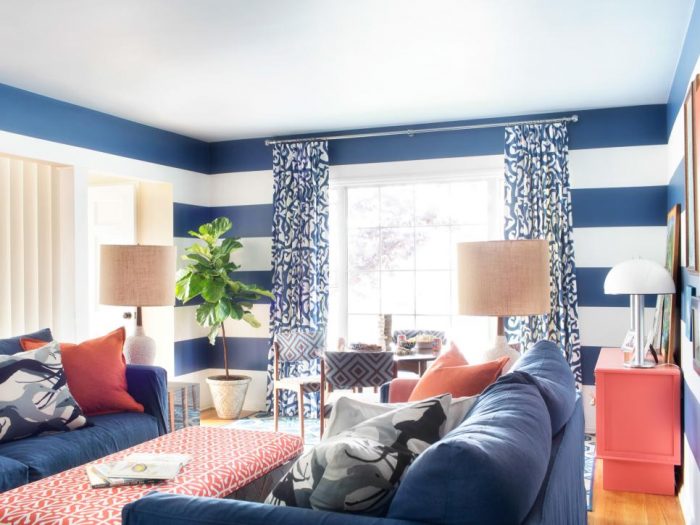 Of course, you can avoid painting the walls blue. Use denim blue furniture and window treatments and avoid wall treatments entirely. On the other hand, you can opt for blue and white wallpaper which you can remove if you change your decor often.
Because it's saturated, vintage denim colors pair well with whites and neutrals. That is why this dining nook looks bright and cheery with its blue makeover.
Your bedroom should be your escape. Therefore, whether you are drawn to the deep indigos or the faded blues, you will give your winter blues the boot!