The black & white kitchen is a re-emerging trend. We welcome it back! This look is classic and clean. However, modern features update this look. The black & white kitchen is updated. Indeed, it's about high style, dramatic contrast, and modern convenience.
In fact, the black & white kitchen is almost graphic in appearance. Also, the drama comes from the contrast in color. Designers mix and match black and white cabinets, countertops, and flooring. While the appliances support this high style, they also provide beauty and convenience for the homeowner.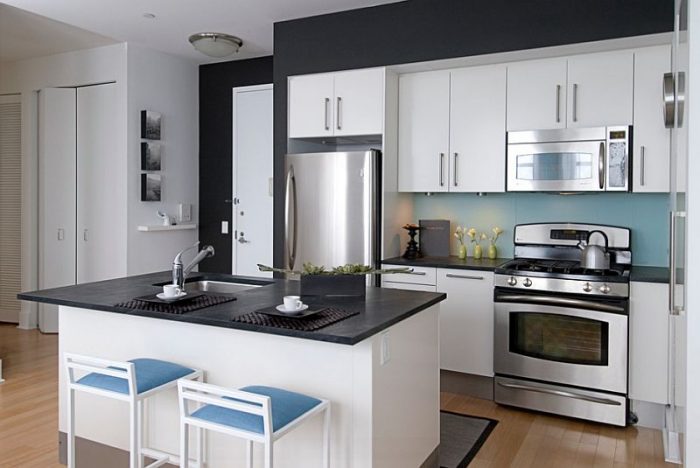 The black & white kitchen suits every size kitchen. From large to small, you can update your kitchen to achieve this dramatic look. Selecting the elements to mix and match is easy. Also, you can add your favorite colors. In fact, all colors work with black & white!
In addition to dramatic style, the black & white kitchen is also about fun! Consider a fun black and white tiled floor to tie in with this look.
Last, remember your design benefits from adding a fun feature wall.  You guessed it…in black and white! A chalkboard wall is whimsical and useful. The kiddos can draw while you prepare meals. Also, you always have a place to write down important information.