The living room is where all the magic happens. The cuddling, the entertaining and of course the drinking and dining. Striving for a unique and stylish living space will make you more likely to use your space and will promote memorable get-togethers. Comfort is of course key, but with so many options at our fingertips you no longer never to substitute style for comfort.
Start with the windows
The most logical place to start as this will set the tone and ambience of the room. While the size and style of your windows are likely predetermined, you can change the feel of the room with stylish blinds.
Each living space is different, and your blinds will strongly influence the look so make sure you choose the right style for your home. Sleek and sophisticated living spaces will demand roller blinds, while functional spaces will need roman blinds, or if you want to really blow away your guests then you can't go past a venetian or vertical blinds.
Review your layout
Your living space should be the place you never want to leave. So easy to collapse into the couch, and almost impossible to peel yourself up and leave. The flow and layout of the space will have a large impact on how your space feels, and how often it is used. Take the less-is-more approach, and fill the space with fewer furniture items that are highly functional.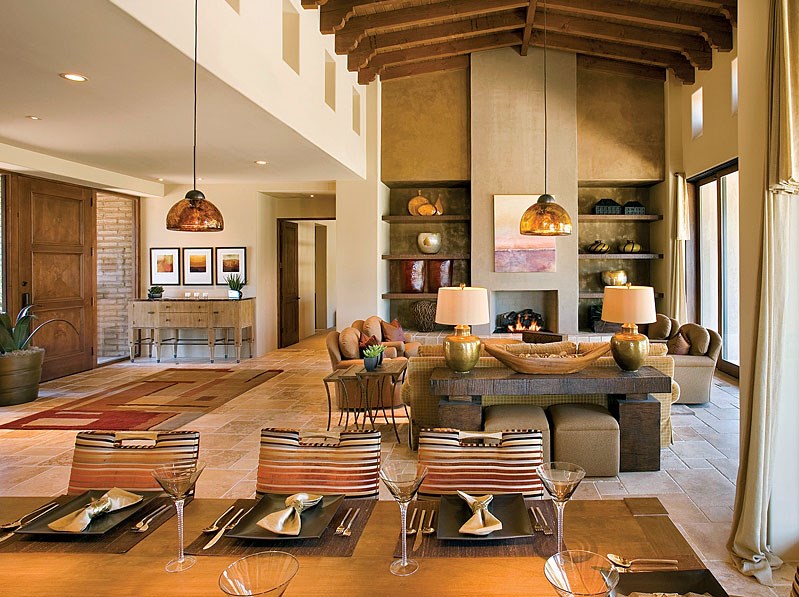 There is no point having six ornamental chairs is it clutters the space so much that you six guests don't know how to enter the space or which one to sit on. Large entry and exit zones will also help with the flow, and will make the space a central zone for residents to come and go without too much shuffling.
Bring some culture
You can fit out your living space with all the right items and sometimes… it still doesn't feel quite right. It is likely missing a hit of personality, which can only be achieved with some original artwork that reflects your passions and values. These pieces of art can come in the form of framed art, ornaments or even a statue.
If you feel you are a bit of an art novice, start keeping your eyes peeled for styles you like, and when you notice a pattern research the works further. Pieces of art also serve as a great conversation starter and it starts your home art collection.
Bring some life
We could only be talking about plants, right? if your living space doesn't not have a touch of green, then you can't yet call it a living space. Indoor plants are very stylish at the moment, and they make any environment unique. Play around with sizes and plant types, as a home with flowers, ferns and vines is one that people want to spend time in.
Finding the right pots to house your plants also gives you a chance to splash some colour in your room, so don't think that you can't have fun with buying pots. Make sure you know the plant types because your guests will ask you, and while you are at it find out how to care for your plants as dead fauna is not a stylish look.
~
Creating a uniquely stylish home can easily become a runaway train. Separate it out to the four areas above and tick off as your complete each stage. Fortunately, you own this space, and can change or manipulate how it looks whenever you like. If this is an area you are particularly interested in, buy some home magazines to whet your appetite and get a feel for the look you want to achieve.