There is a trend in home design now for an open bathroom concept in the master bedroom.  This trend has evolved from a modern take on the home interior, where accessibility is key.  That's not to say you still can't have a modicum of privacy within this space.  It's all in how you plan to use the space and what elements you would prefer to have private.  Take a look at some of the designs for open concept bathrooms and judge for yourself.
Every once in a while, a design comes along that has some people scratching their heads while others cry out in delight, "It's about time they thought of this!"  Having an open bathroom in the master bedroom is one such idea.  It's a design that you will either love or hate.
Standalone tubs just steps from your bed can be a nice luxury.  Showering in the same room that you dress can be an advantage in the mornings when you are rushing around getting ready for work.
Having no division between the master bedroom and bath opens up the room, allowing more space.  For those that prefer their privacy but still like the idea of open spaces, half walls and private platforms for the tub can be installed.  Likewise for the toilet.
The open concept bathroom can resemble a luxury spa, where everything is within one space for the ultimate relaxing escape.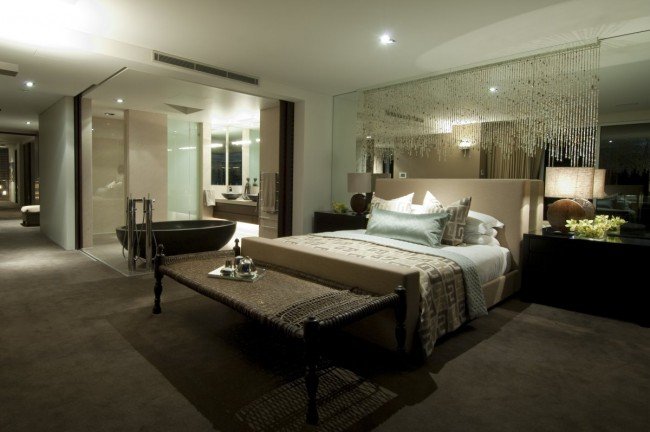 With bathrooms becoming more and more luxurious and technologically advanced, the next step into the bedroom space seems only logical.  So, would you include this feature in your next home or home improvement project?  Indulge in a long soak in the tub while you consider the open bathroom concept.