Whether you live on the coast or in the city, you can still achieve this fluid, relaxing look in your home.  There is something special about the airy, soothing coastal cottage style that appeals to everyone.  Perhaps it is memories of beach vacations or simply a love of nature that inspires us to embrace this iconic style.
The colors of the coastal cottage style are light and airy blues and greens, with natural browns and creams to accent.  Colors are soothing and relaxing, opening up the space and keeping it light.  Walking into a coastal cottage, you immediately feel the relaxing vibe.
Walls of the coastal cottage are often either all bead board or accented with wainscoting.  Painted white, the boards provide a crisp, clean look while walls of sheetrock are painted in soft blue, green or cream.  The overall effect is one of serene beauty.
Windows are largely unadorned to let in the most natural light and to take full advantage of the view.  However, if you do prefer some type of treatment at the windows, long, billowing panels that blow in the breeze or simple shades provide the perfect solution.
Furniture is comfortable and accommodating.  Upholstered pieces can be slipcovered to make them even more casual.  Wicker, either painted white or in natural warm brown, is ideal.  It is visually light in a room, comfortable and holds up well against sandy people coming in from the beach.
Accessories for the coastal cottage range from natural elements such as driftwood and seashells to beautifully colored bottles that reflect the light.  Weathered wood accents, lanterns, sailboats and nautical instruments round out the decorative elements.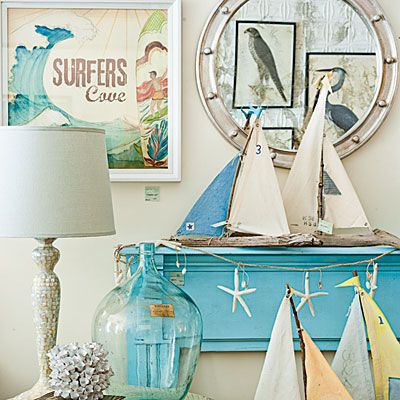 The coastal cottage style is one that can be applied anywhere, in any home.  Choose the light colors of the sea, accent with natural elements and nautical finds and relax in comfortable furniture.  Designing your home in coastal cottage style will transport you to a tranquil, lighter place.