Playgrounds are a place for kids to be kids, to play and enjoy the sun. Parents can let their imagination go wild, designing a beautiful and functional playground. Creating a playground is more than just, including swings or slides. A playground can be for beauty as well as a functional space for interaction and play.
An adequately designed playground can foster a close connection to nature and give children a creative outlet. Playground designers all around the world are creating top quality play spaces everywhere for kids, but you can have that same design in your backyard.
How to Design a Functional and Beautiful Playground
Consider a Theme
First, you have to think about whether or not you want to use a theme. A theme can be a guiding hand when selecting the playground equipment and plants.Examples of themes can be rustic, like walking in the worlds, or modern. A modern playground will use metal swing sets instead of wooden and brighter colors. Could it be adventurous or somewhere for your child to be creative?
Before you design a playground, make sure it's your definition of beauty, and it'll be enjoyable for you and your children.
Pick the Right Swing Set
Most playgrounds include a swing set, but not all swing sets can be classified as beautiful. Wooden swing sets are a significant investment, but they are far more appealing and attractive than metal or plastic swing sets.
Make sure it will work for several ages. An investment needs to last for years or decades to come. It should have multiple swings, depending on how many kids you have. Most include a slide and a spot to climb up to get to the slide. Underneath the slide, you might find a lovely table, a sandbox, or more.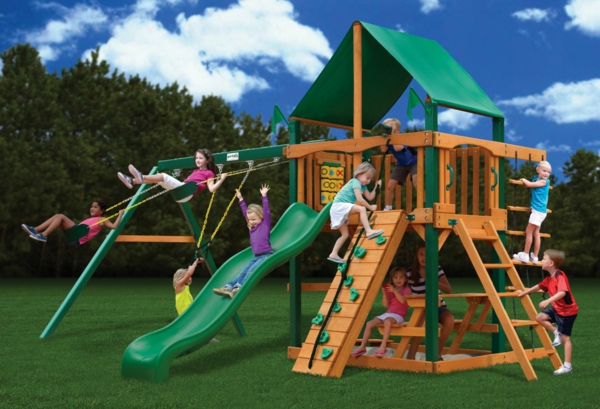 Use Rubber Under Swingsets
Cutting grass underneath a swingset is quite a pain in the butt, and a beautiful playground needs to be well-kept. It takes too much time to weed-eat, and it's easy to miss spots.
To make the playground look beautiful, place rubber under the swingsets. Most home improvement stores carry rubber mulch, but mulch can also go astray, ending up throughout your lawn. Rubber mats can be cut and placed underneath the swingset and the area that your child will play. Plus, rubber does help to reduce pain when falling off swings or slides. It's bound to happen!
Add a Child's Garden
Near your swing set, consider putting a child's garden. Let your child pick the plants that you can include in this spot. Your child can pick pretty flowers, herbs, and even some of their favorite vegetables. Kids love to have free reign over creating their garden. Make sure you let your child take care of the garden, weeding, and water every day. It gives kids responsibility as well as some beauty.
Make a HopScotch Path with Stones
A well-placed path leading to your child's playground and play double-duty as a hopscotch path. All children love to play hopscotch together.
You can use pavers and paint the colors on them. Another choice is to use natural rocks, with the grass growing up between, to create a beautiful path as well. It makes it seem as if the path has always been there, waiting for little kids to come to play.
Add a Place to Climb
Climbing is a needed sensory activity for kids. Jungle domes are a favorite pick and easy to put together, but other options include placing logs of varying heights for kids to climb up or making a rock climbing wall.
Kids love to climb and fulfill that need to be a bit daring, but climbing in a controlled environment makes parents feel better about any risks as well.
Don't Forget The Trees
You don't want the playground being out in the wide open! The shade is your friend and great for kids who have sensitive skin. Well-placed trees can give a shady spot for kids to sit underneath while eating a snack. Trees also give you a place to put a tire swing or a disk swing. You can even hang a hammock chair from a small tree.
Place Native Plants Nearby
Native plants are your friend. Playgrounds don't need to include plants, but native plants, such as tall grasses, can add an exciting aspect and beauty to your playground. These plants typically require less upkeep than pots of flowers. Just make sure to do your research and use plants that are native to your area.
Make an Outside Kitchen
Kids need to be creative and get in touch with Mother Nature. Why not create a unique, fun outside "kitchen" for kids? Put some wooden spoons and forks for kids. Grab a few wooden bowls to put on the table as well. Kids love to gather grass, rocks, mud, and more and make "dishes." Be prepared to pretend to eat some of those unique creations as well.
Put Out a Few Benches
Last, don't forget yourself when designing your playground! Chances are you're going to sit outside, watching your children play. Put a few benches or swings for you to enjoy throughout the playground. Make sure they're comfortable with lovely outside throw pillows and a table where you can enjoy a meal or coffee. A playground can be beautiful and functional for you as well.
Be Creative and Have Fun
Designing a playground should be fun! It's a place for your kids to have fun, so why not be creative and a bit whimsical? It's a place that you can give your child his dreams without worrying about paint colors. Talk to your child and see what they say. Even little kids can inspire you.