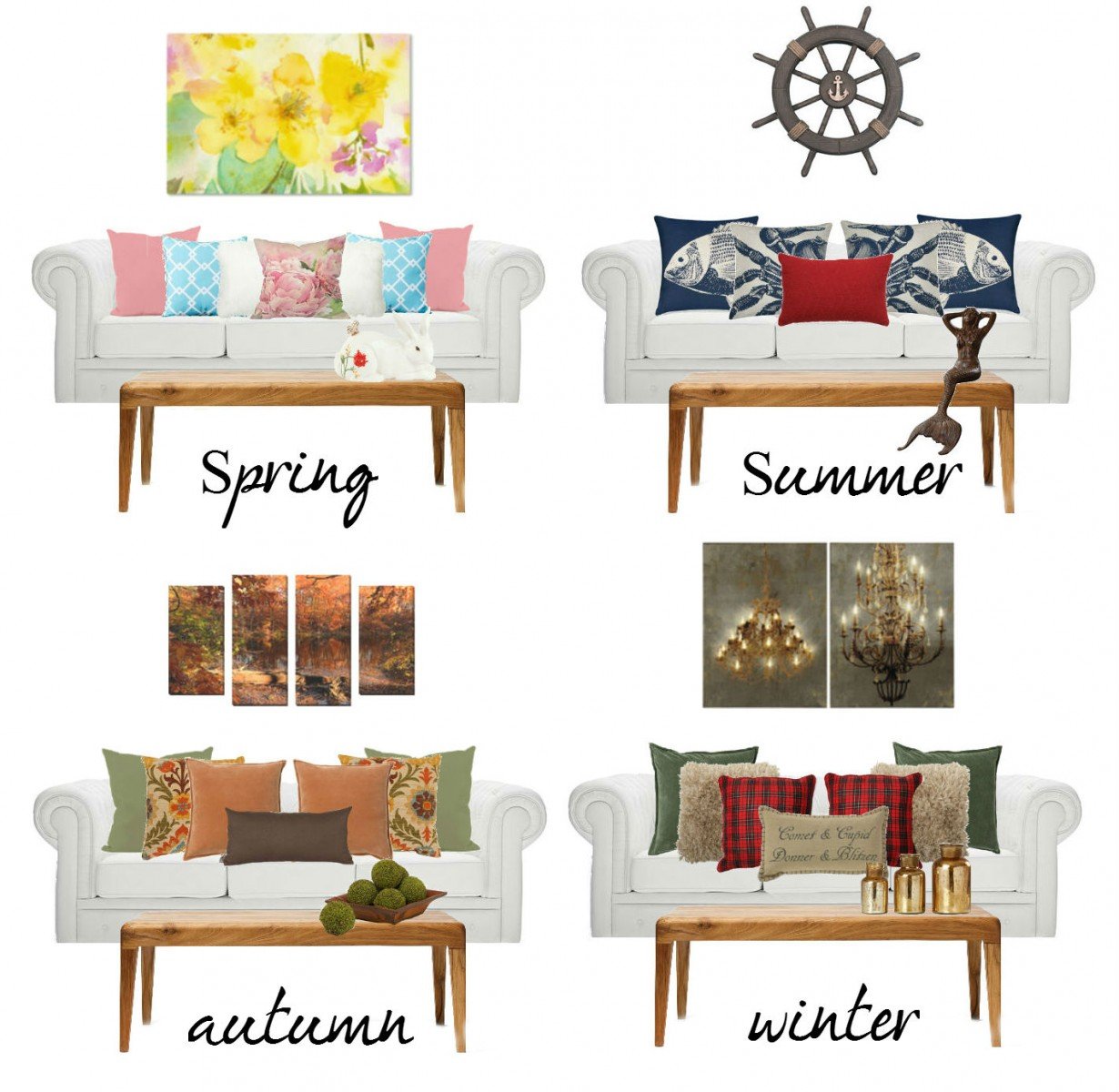 Your home should be a reflection of your life. Your day to day activities should not clash with your interior. Therefore, having bright blue decor during the fall can feel a bit off. If you decorate living room by season, your room will feel like an extension of the outdoors. Starting off with a neutral room is the best way to ensure that every season can be represented. At least three components need to be changed for each season for this to work: throw pillows, a piece of art, and a trinket.
To begin the process I chose a sofa and coffee table: Houzz's Modway Chesterfield Sofa in White and world effect's Lawru Coffee Table.
Spring

Spring time is associated with flowers, pastels, and, of course, bunnies. In this spring living room design I featured a light pink pillow, a sky blue Moroccan pillow, a white furry pillow,and a floral pillow. I also found a white bunny figurine and a floral painting. Below is an example of implementing these colors and concepts into an existing home.
Summer

Summer can mean many things to many people. Nautical, beaches, poolside, or camping. In this case I chose a nautical theme with two navy and tan pillows one fish and one crab, one red lumbar pillow, a mermaid figurine, and a ship's wheel. Below is a summery living room that also went with a nautical theme.
Autumn

Autumn is identified with the varying shades of greens, oranges, and browns and that is what I hoped to display in this living room. I first chose the patterned pillow then chose a green, orange, and brown pillow that tied in to it. I also found a fall landscape painting and some mossy decorative spheres. Below is a good examples of the colors.
Winter

Again, winter can be represented in a number of ways: blues and whites, reds and greens, or golds. I decided that in this design a great way to display the season would be reds, greens, and golds. I found a great red and green plaid pillow, matched it with a green one. I then found a "Comit & Cupid, Donner & Blitzon" pillow and matched it to a furry tan pillow. I brought gold in through three vases and an LED chandelier painting. Although finding a similar example was a bit challenging, the one below shows the concept of cozy elements and reds and golds.