Go back to the future with mid-century modern style.  Evocative of the post-war era where the need for fresh change was strong, the years between the mid-40s and 1970's captured the essence of what we now know as mid-century modern.  This is a style that epitomizes organic form and an uncomplicated design aesthetic.  Explore these mid-century interiors and appreciate the flow and simplicity of this trending design era.
Simple, clean lines and organic shapes dominate the mid-century design style.  Warm woods and nature-inspired silhouettes showed an appreciation for a less complicated and excessive décor, allowing space to breath.
Lighting of the mid-century was crafted to take center stage as well as to be functional.  In essence, mid-century lighting is functional art.  Starburst designs, large globes and fun geometric shapes highlight this style.
Mid-century furniture creates an open flow to match the spaces that architects were producing in this era, where the blending of outdoor space with indoor played a large role.  Homes were designed with large windows and those windows were most often left unadorned.
The open plan home was a popular choice in the mid-century.  Architects were designing homes that flowed smoothly, much like the desired style of homes we see today.  Large windows and light were a priority and space was utilized more fully.
Comfort is key in the mid-century modern home.  Upholstery fabrics were heavier and more substantial, boasting durability.  Large sofas that conformed to body and room were placed center stage, while separate seating options surrounded the living area.
Colors ran the range from simple neutrals to bold.  Popular mid-century colors are avocado green, oxblood red, aqua and gold.  Combinations of colors were embraced and freely used throughout.  Warm and earthy is the preferred color palette, which enhances the warm woods of mid-century furniture.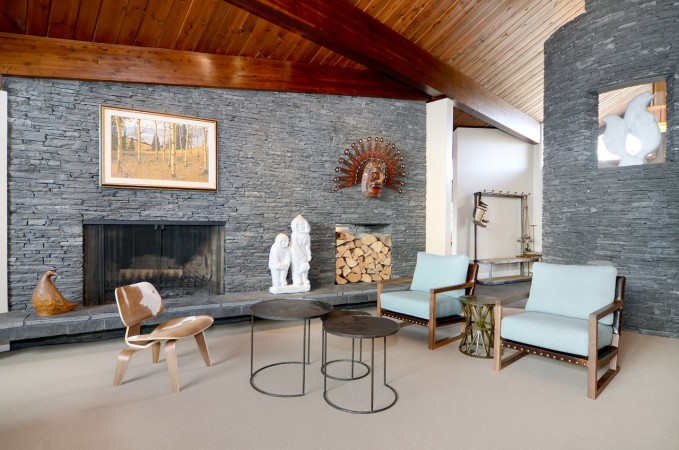 To truly capture the essence of mid-century modern, examine the sleek lines and organic shapes of the furniture.  Open up your living space and let in the light or merge the indoors with outdoors.  With mid-century modern in the spotlight these days, many authentic pieces are available but the demand is high.  You may want to purchase one item, perhaps a significant statement chandelier, and use reproductions to fill the balance.  Mid-century modern is a design style that takes you back to the future.