It's that time of year again when our thoughts turn to cozy nights at home by the fire.  Fireplaces have come a long way, and with many modern homes designed with an open floor plan, the fireplace has evolved.  Two-sided and open fireplace designs are efficient and very stylish features of the modern home.  Here are some great open fireplace designs to warm your home.
The modern open fireplace is a functional feature that makes a strong statement in the home.  Not only do they provide warmth, but open fireplaces make a striking impression as architectural structures of the home.  Luxurious modern homes abound with the ever-impressive open fireplace that dominates open floor plans.
Two-way fireplaces are the perfect room divider.  Having a functional fireplace in several rooms of the home is a dream of many.  That dream is a reality with the two-sided fireplace design, where one central fireplace serves two or more rooms.  Accessibility is convenient and the open floor plan space is divided, marking definite areas in the home while keeping with the open feeling.
A two-sided fireplace doesn't have to stand alone.  A television can be integrated into the fireplace surround.  This offers a dual-purpose focal point for the room without sacrificing additional space.
The advantages of a two-sided or open fireplace are many.  Stylistically, the open fireplace design adds a feature that stands out in the home.  The fireplace can be placed so that it is visible from nearly every angle.  The open fireplace provides a great divider in open areas and this also benefits the flow of warm air throughout a space.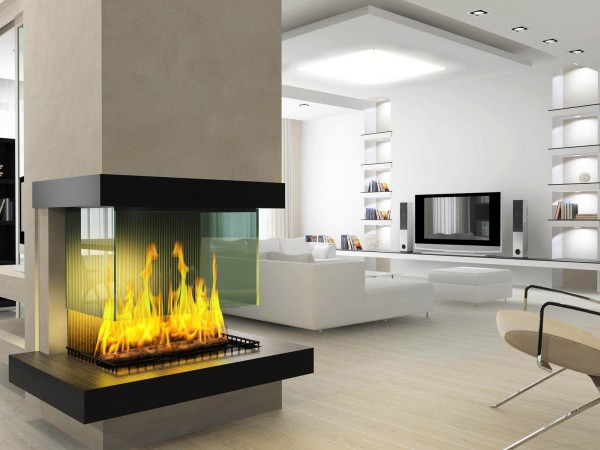 Like any fireplace design, two-sided and open fireplaces offer you numerous options for surrounds.  Beautiful slate, rock, brick and many natural and composite surfaces can be chosen to enhance the fireplace.
For warmth, ambiance and style, there is nothing quite like an open or two-sided fireplace in the home.  Perfect for modern open floor plans, the open fireplace gives structure and architectural interest to the home.  The two-sided fireplace enhances open spaces with stylish division and a functional focal point.  Come inside from the cold and warm up by the fire.