In today's time, a fireplace serves a dual purpose. Beyond just providing warmth to a home, it's also one of the areas where a focal point in a room can be made. It also adds to the overall design element to a room. 
There's also the added challenge for architects and engineers to ensure that the fireplace continues on giving the purpose for which it was intended, without sacrificing on the style factor. As more potential homeowners are getting pickier about the style of their homes, it's very important that home developers are able to meet that need. 
Then, on the other side of the coin, there may also be some of you who are looking to go through a home renovation. If you feel like the current style of your fireplace is getting outdated, surely there are changes that you can apply to make it better. 
If you're running low on inspiration, you're in the right place. Here, you'll have some inspiration of the best open fireplace designs for your home:
It's that time of year again when our thoughts turn to cozy nights at home by the fire.  Fireplaces have come a long way, and with many modern homes designed with an open floor plan, the fireplace has evolved.  Two-sided and open fireplace designs are efficient and very stylish features of the modern home.  Here are some great open fireplace designs to warm your home.
Here are some great open fireplace designs to warm your home.
In the design concept below, the fireplace even serves another strategic purpose. It's used to divide the dining area and the living room. That way, an open concept is achieved – the two rooms are divided for more privacy.
The modern open fireplace is a functional feature that makes a strong statement in the home.  Not only do they provide warmth, but open fireplaces make a striking impression as architectural structures of the home.  Luxurious modern homes abound with the ever-impressive open fireplace that dominates open floor plans.
In this design below, you'd see that there's a switch in the common type of fireplace that's being used. Previously, a wood fireplace was preferred. Now, you'd see many modern fireplace designs that can be run through gas and/or electricity. 
Just be sure, however, that during your renovation, you're able to make that switch correctly. To help you along that line, here's a wood fireplace to gas installation guide.
Two-way fireplaces are the perfect room divider.  Having a functional fireplace in several rooms of the home is a dream of many.  That dream is a reality with the two-sided fireplace design, where one central fireplace serves two or more rooms.  Accessibility is convenient and the open floor plan space is divided, marking definite areas in the home while keeping with the open feeling.
A two-sided fireplace doesn't have to stand alone.  A television can be integrated into the fireplace surround.  This offers a dual-purpose focal point for the room without sacrificing additional space.
The advantages of a two-sided or open fireplace are many.  Stylistically, the open fireplace design adds a feature that stands out in the home.  The fireplace can be placed so that it is visible from nearly every angle.  The open fireplace provides a great divider in open areas and this also benefits the flow of warm air throughout a space.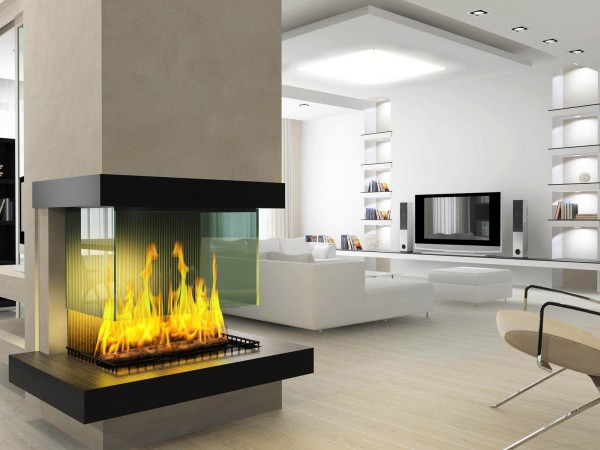 Like any fireplace design, two-sided and open fireplaces offer you numerous options for surrounds.  Beautiful slate, rock, brick and many natural and composite surfaces can be chosen to enhance the fireplace. That way, you're giving it a more cozy and elegant vibe. Just be sure, however, that you're prudent in choosing the right fireplace for your home.
Here is another example of how an open concept design incorporates a classic and modern design. The house, in itself, is classic, but, the touch of bricks give it that modern vibe.
For warmth, ambiance and style, there is nothing quite like an open or two-sided fireplace in the home.  Perfect for modern open floor plans, the open fireplace gives structure and architectural interest to the home.  The two-sided fireplace enhances open spaces with stylish division and a functional focal point.  Come inside from the cold and warm up by the fire.
Final Word / Conclusion
Open concepts are now becoming the well-loved design choice, for the very reason that an open-air gives the illusion of space. With these design tips, you can be one step closer to creating that perfect open fireplace design for your home.
On the functional aspect, open fireplace designs are also more effective since it's able to bring warmth to more rooms, all at once, without the need for lighting up multiple fireplace or heating systems.