Don't have a big back yard but always wanted to grow your own flowers? No matter if you live in an apartment or just happen to not have much outdoor square footage, this doesn't mean that you can't put your green thumb to good use. With an indoor garden you can bring the beauty of Mother Nature right into your own home.
Here's what you need to know about creating an indoor garden that will last for years to come.
Choose a Style of Gardening
With an indoor garden, there are two main ways that you can garden. The first option is container gardening, which involves the use of planters and containers filled with gardening soil to house and grow your plants. With container gardening you can place containers in a sunroom, front porch, or some other area in your home that receives plenty of natural light.
Depending on the size of your home and the amount of natural light you get, you may want to consider creating a mini garden using a window in your home. Since traditional windows don't offer enough space for a true garden, you'll want to consider having a new window installed, such as a bay or bow window. Both of these window types offer more space and let in much more natural light.
While replacement windows cost money, it pays to be able to enjoy your home by having an indoor garden while also being able to enjoy more natural light.
The second indoor garden option is hydroponic gardening. This style uses fertilized water and non-soil starter to help your plants grow. Hydroponic gardening is typically arranged vertically. This form of gardening doesn't require much space but is more limiting when compared to container gardening.
Find the Ideal Spot
A successful indoor garden requires choosing the right space in your home. You'll need to use an area that gets a lot of sunlight. Rooms that are typically cold, such as the garage or attic, can stunt plant growth. Too much cold can also kill your plants.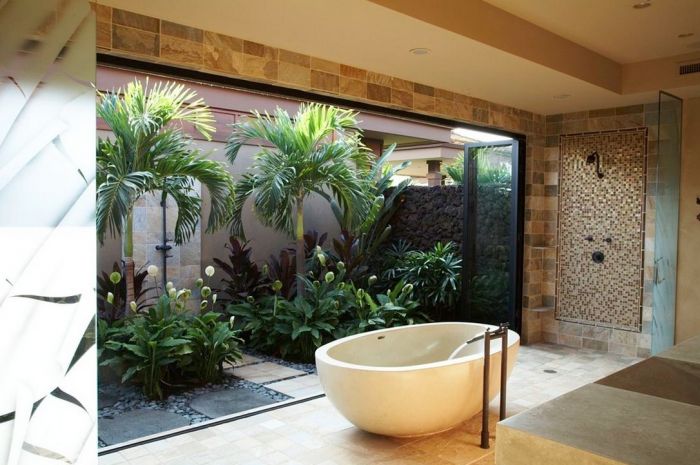 Indoor gardens should also be placed away for air vents and fans. This can dry out the plants and cause damage. The environment you choose should also be one that can be easily controlled.
Know the Important Factors
With an indoor garden there are three main factors to consider: water frequency, air temperature, and soil condition. These factors will change depending on the type of garden you plant along with the type of plants that you want to grow.
To help with water frequency, consider a drip system that regularly waters plants for you. This way you don't have to worry about forgetting to water them or setting daily reminders. With a drip system small tubes are given to each plant and a timer releases when water should be released.
To control soil condition, consider buying soil heat mats. Plants grow best in warmer soil. With heat mats you don't have to blast your heat throughout the year, which can be quite costly and very uncomfortable. Heat mats effortlessly regulate soil temperature without any effort on your end.
A last option to consider is lighting. Even though windows let in some sunlight, most indoor gardens require artificial light. Fluorescent light tubes are cost effective and typically offer just the right amount of light that plants need to thrive.
Pick the Right Plants
Even with an outdoor garden, there are all sorts of plants that you can choose to grow in your home. Herbs, berries, vegetables, and certain decorative plants are all great options for a healthy beautiful indoor garden.
Of course, not all plants will work indoors, so you'll want to ensure you choose those that will thrive in an indoor environment.
Top plant options for your indoor garden include:
African violet
Begonia
Cactus
Peace lily
Succulents
Marigolds
Certain vegetables also grow well indoors including mushrooms, peas, lettuce, and beans. Start your own herb garden by planting oregano, basil, chives, sage, rosemary, and thyme.
Soil Matters
Creating the best potting mix for your plants isn't as simple as scooping some dirt from outside. Instead you'll need to create potting mix that includes a mix of compost, coir peat, and vermiculite. You can find all of these products at a local gardening center. By taking the time to create a healthy soil mixture, you're able to give your plants the optimal environment for growing.
Conclusion
With these tips you can design a unique and healthy garden inside of the comforts of your own home! Indoor gardens are perfect for urban dwellers or those who don't have enough space in their yards to create a traditional outdoor garden.