These 10 small kitchen makeovers are so dramatic that you won't believe it! Although a large kitchen is desirable, it's not always possible. Some homes simply have small kitchens. Therefore, the homeowner changes their mindset.
Some homes simply have small kitchens. Therefore, the homeowner changes their mindset. They stop thinking of their kitchen as a "small kitchen."  Next, they start to think of it as a super-efficient workspace.
After they shift that mindset, new possibilities open up.  Look at these 10 before and after photos of small kitchens. Certainly, we can change your mind as well.
First, this small 1970's kitchen received a dramatic update. The designer shifted the entire footprint to achieve a cozy yet efficient kitchen. Also, the soffits were moved to add height to the room.The island adds extra prep space. Also, it adds a place to entertain guests.
Next, this homeowner overhauled their galley kitchen with fresh paint on the cabinets and walls. Also, they added updated lighting and new appliances. In addition, the new pot rack adds storage space.
"Slimmer and brighter units as well as unblocking the windows has certainly made a difference here," comments Ruban Selvanayagam of London Home Sales Group Property Solvers.
See another 1970's kitchen, below. Like the first kitchen, this one needed the entire footprint and window shifted for proper flow. Additionally, they added a charming backsplash.
Next up, the homeowner added valuable storage space. Installing tall upper cabinets that stretch to the ceiling was a genius plan! They also added an additional lower corner cabinet. Most certainly, this is now an efficient space.
This kitchen footprint remains the same. But the designer brought it to 2017 with gorgeous granite. Also, note the cabinets are the same but freshly painted. New appliances save both energy and space!
Some creative thinking makes this updated kitchen go from a don't to a definite do!
New cabinets, appliances, and fixtures add instant charm. A new window improves efficiency.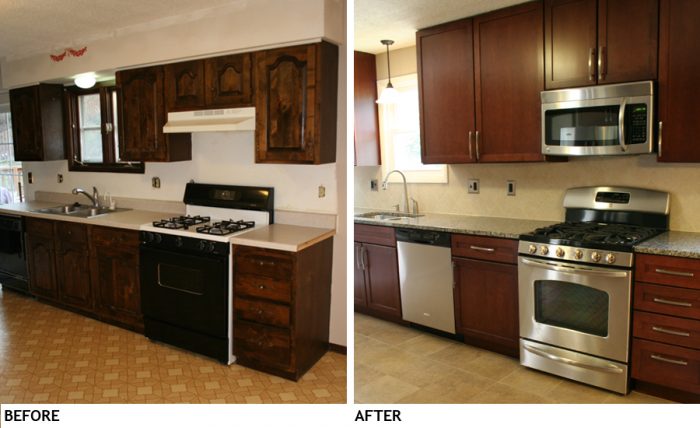 Small updates can make a huge impact. The kitchen below has the same appliances, countertops, and appliances. However, fresh paint, a brick backsplash, and updated lighting transform this room.
Below is a kitchen that kept the same footprint. Sometimes, you can't change the footprint. So make the rest as glamourous as possible!
6 More Tips for the Perfect Kitchen Makeover
A kitchen makeover can boost a home's interior decor and revitalize the cooking zone into a new, livelier, and more functional space.
For most homeowners, the goal is to upgrade their kitchens without spending a fortune and still achieve a one-of-a-kind design.
This is possible if you analyze your kitchen and plan the project into simple DIY tasks. Here are some easy kitchen makeover tips to consider:
Rethink your arrangement,
Work your wall,
Install cabinets, or
Upgrade your floor.
Apart from determining the appropriate upgrade for your cooking area, analyzing your space also allows you to set a reasonable budget for the project. Lastly, it helps you determine what to eliminate from your current design and which new elements to include.
Steps to Start & Complete a Kitchen Makeover
It's crucial to develop a well-thought-out plan for your kitchen renovation. Organizing the order of activities before swinging into action eliminates confusion and costly design mistakes.
So what are the steps in accomplishing a kitchen makeover? Are there any crucial considerations during the planning stages? What are some mistakes to avoid an expensive renovation? Discover everything below.
Before you begin a makeover:
Analyze your space,
Mull over the myriad kitchen makeover tips to see what fits your needs,
Draft a budget,
Gather the items and materials you need,
Declutter or get rid of what you do not require,
Begin your makeover.
Remember, following these steps encourage the smooth flow of activities once the project begins while eliminating potential hiccups.
6 Kitchen Makeover Tips to Try
Kitchen makeover projects can range from simple DIY tasks to complex renovations needing a home designer. Your preferred approach will determine how much time and money you spend on the project.
Below are some makeover tips to upgrade your cooking area:
Change the backdrop
Walls are a conspicuous element of design. Any new addition or change to a wall is almost impossible to ignore. There are plenty of things you can do to make an old kitchen wall look livelier.
Changing the backdrop can involve:
Adding a wallpaper
Hanging artwork
Tiling your walls
Rethinking your painting
Another creative approach is to engage any empty spaces by installing kitchen cabinets.
Bring in the Outdoor
Plants are an easy way to bring in the outdoors. They also create a serene cooking environment and can be arranged in many different styles.
When adding plants to a kitchen, take advantage of your windows, build a ladder garden and hang plants, place huge plant pots in strategic locations or decorate an empty wall by staggering plants all over.
You can also improve your kitchen's aesthetics by choosing creative pot designs and colors. Lastly, it's okay to add fake plants if you don't have the time to care for real plants.
Upgrade your floor
Flooring is an underrated element of kitchen design. Yet a strategic upgrade can change your cooking area and inspire a complete renovation.
There are plenty of styles and material options to choose from when planning a floor renovation project.
Some of them include:
Upgrading to more creative tiles,
Using a wooden floor
Installing a stone floor
If your interior decor allows, consider a standard approach like black and white tiles.
Rethink you arrangement
Besides improving a kitchen's looks, a new arrangement can also make your cooking area more functional. For instance, if you didn't consider the kitchen triangle in your previous design, tweak your arrangement to make the space better and safer.
Also, eliminate anything that obstructs movements to make the room chef-friendly. Lastly, get rid of, or reposition, the appliances you do not use often.
Illuminate your space
A new light fixture is perhaps one of the easiest kitchen makeover tips. It is also a clever way to achieve more from less. Beyond looks, illuminating your cooking area reduces accidents and makes your space more functional.
Before shopping for new fixtures, think about design and strategic placement because these projects can turn out messy if not executed carefully.
Do a cabinet makeover
Cabinets are another undisputable approach in kitchen design. But your strategy and choice of cabinets can make or break your kitchen's aesthetics.
Also besides upgrading looks, cabinets offer plenty of storage allowing you to hide away any kitchen clutter.
There are plenty of ways to incorporate cabinets into your kitchen design. Spend quality time choosing a relevant unit from the myriad designs and colors.
Which Kitchen Makeover Tips Inspired You?
Go ahead! And don't forget the steps; analyze your space, determine what it needs, draft a budget, shop for items, declutter, and then hit the ground running.
Plus, there are many other creative ways to go about a kitchen renovation project. Do not limit your options to these. Feel free to go for anything you believe will revamp your kitchen.
In conclusion, turning your own small kitchen into a super-efficient workspace is time well spent.