These 10 small kitchen makeovers are so dramatic that you won't believe it! Although a large kitchen is desirable, it's not always possible. Some homes simply have small kitchens. Therefore, the homeowner changes their mindset.
Some homes simply have small kitchens. Therefore, the homeowner changes their mindset. They stop thinking of their kitchen as a "small kitchen." Next, they start to think of it as a super-efficient workspace.
After they shift that mindset, new possibilities open up. Look at these 10 before and after photos of small kitchens. Certainly, we can change your mind as well.
First, this small 1970's kitchen received a dramatic update. The designer shifted the entire footprint to achieve a cozy yet efficient kitchen. Also, the soffits were moved to add height to the room.The island adds extra prep space. Also, it adds a place to entertain guests.
Next, this homeowner overhauled their galley kitchen with fresh paint on the cabinets and walls. Also, they added updated lighting and new appliances. In addition, the new pot rack adds storage space.
See another 1970's kitchen, below. Like the first kitchen, this one needed the entire footprint and window shifted for proper flow. Additionally, they added a charming backsplash.
Next up, the homeowner added valuable storage space. Installing tall upper cabinets that stretch to the ceiling was a genius plan! They also added an additional lower corner cabinet. Most certainly, this is now an efficient space.
This kitchen footprint remains the same. But the designer brought it to 2017 with gorgeous granite. Also, note the cabinets are the same but freshly painted. New appliances save both energy and space!
Some creative thinking makes this updated kitchen go from a don't to a definite do!
New cabinets, appliances, and fixtures add instant charm. A new window improves efficiency.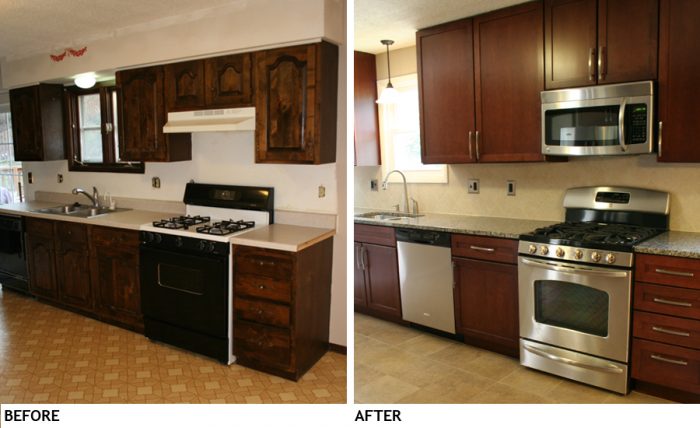 Small updates can make a huge impact. The kitchen below has the same appliances, countertops, and appliances. However, fresh paint, a brick backsplash, and updated lighting transform this room.
Below is a kitchen that kept the same footprint. Sometimes, you can't change the footprint. So make the rest as glamourous as possible!
In conclusion, turning your own small kitchen into a super-efficient workspace is time well spent.