With Thanksgiving just days away, the kitchen is a room in which many will be spending long hours.  In honor of those, let's explore 31 cool and colorful kitchens that would inspire even the culinary-challenged to enjoy.
Who says a kitchen has to look a certain way?  Break free from any preconceived notions about kitchen design and decoration and embrace the unique.  Paint the walls a bright color and the cabinets a contrasting color to the walls.  Blend open shelving with cabinets, choose a bright countertop as an accent and install unique backsplash tiles.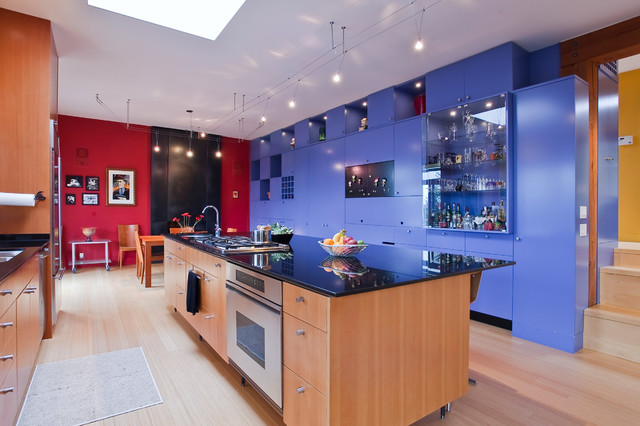 Use colorful bar stools, kitchen table chairs, artwork and lighting to express a unique point of view in the kitchen.
Style an eat-in kitchen as you would any other room.  Take creative liberty and infuse the room with color and quirky accents.
For a sophisticated kitchen, use colorful appliances, accents and artwork to add small bursts of color.  Anchor the kitchen island with bright stools.  To achieve a balanced and sophisticated vibrant kitchen, limit your colors to two and use them in impactful ways, such as on the kitchen island and the walls.
Angled cabinets and shelving, zigzag lime lines with contrasting red panels equal a kitchen that is modern and extremely creative.  And if you like fluorescent shades of green, this color is a fresh and lively choice for the kitchen.
A rose-colored kitchen with modern lighting and a zebra print rug is not your every day kitchen.  This is a great choice for the daring homeowner with an open floor plan.
For the traditionalist, mixing in a kitchen island of a different color than the cabinetry adds just the perfect note of color.  Accent this with a contrasting color of pendant lights over the island and pick up the color with art and accessories.
Using a unique material for the island countertop gives the kitchen a custom look.  Install colorful glass pendant lights and a beautiful tile backsplash for a cohesive and stylish finish.
Using a wallpaper you may have reserved for another room of the home is an unexpected feature in the kitchen.  Install small chandeliers over the kitchen island for a bit of luxury and traditional styling.  A mix of rustic and glamour is always a winning combination.
A blown glass chandelier, glass island countertop and marble backsplash with red swirls above a red oven give this kitchen an inviting glamour and appeal.
Modern kitchens with bold color combinations have a very of-the-moment cool appeal.  Those with unique cabinet accents take the kitchen to a new and exciting level.
Traditional kitchens with a classic color scheme, attractive light fixtures or a unique theme have winning appeal.
A touch of the unexpected should not be reserved for other rooms in the home.  A unique light fixture, wallpaper or accessory can be an instant boost to the kitchen.  And since many friends and family gravitate toward the kitchen during gatherings, why not have a conversation piece?
Some kitchens just possess a cool vibe.  Be it the fresh appeal, unique cabinetry or built-in feature, or just the overall design aesthetic, these kitchens are inspiring.
Cooking and entertaining in kitchens like these seems less like work and more about enjoyment.  When style and functionality merge, there is no limit to what you can create in these cool and colorful kitchens.