Your dog is a part of the family so why not carve out a little space in your home for your four-legged friend?  A warm bed to snuggle, a little nook to hide out in, a place for eating and supplies, and the facilities to bathe your pet will make your beloved Fido feel more at home.
A warm bed for Fido to snuggle into at naptime or nighttime is one of the ways you can make your pet more comfortable.  You can design built-ins around your pet's bed for extra storage or simply designate a spot for him or her (if they haven't already chosen one) and provide them with a cozy cushion.
If you have the space, designate a room or a section of a room for built-ins that can function as a sleeping, feeding and storage space.  Provide storage for food, treats and toys.  A series of wall hooks can be used for storing collars, leashes and harnesses.
The area under the stairs is a great spot to tuck away a little hideaway for your dog where he can feel cozy while waiting for you to come home.  Extra space can be used for storage with the addition of cabinets and drawers.
Bathing your dog can be a difficult task.  Bending over a bathtub to scrub a wiggly pup or maneuvering a large dog into the tub can be hard on you and your dog.  Make it easier with a built-in dog-size shower that Fido can just walk into and be easily bathed.  The mudroom or laundry room is the ideal spot for this small luxury and makes clean-up convenient when bringing in your dog from a muddy walk.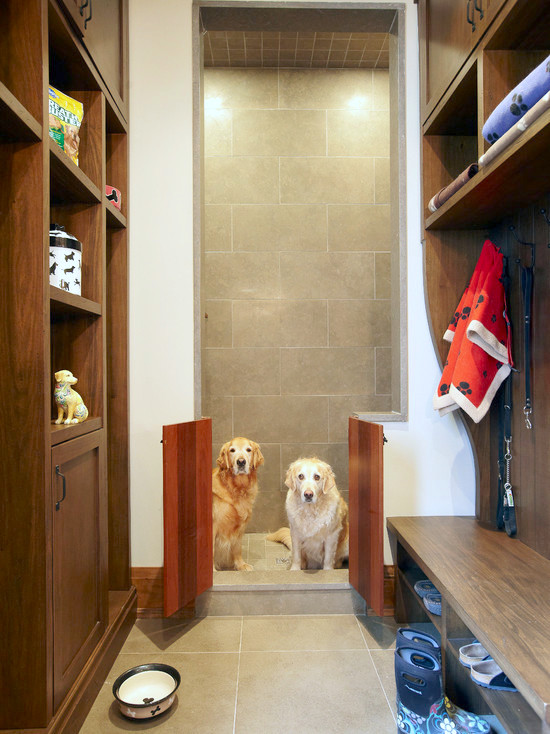 Being the hub of the home, the kitchen provides areas where food and water dishes can be kept.  Incorporate an open cabinet space to keep these out of the way but where Fido can reach them easily.
Whether you have one or several dogs, designing a space just for them makes every household member happier.  Let these ideas inspire you to create a tidy and cozy spot for your beloved furry family member.