How many times have you looked at an old chest, chair or other piece of furniture and thought about getting rid of it because it just didn't look that great any more?  Or perhaps you have an antique that Grandma gave you that doesn't fit with your style.  If the piece has good bones and is still structurally sound, a new coat of paint can do wonders to transform furniture.  Here are ideas to give new life to old furniture with paint.
Brighten up an old desk or chest with a fresh, vivid color and accent with colorful accessories for a statement piece in the bedroom, home office or living room.  Even coordinate the color with the overall room scheme.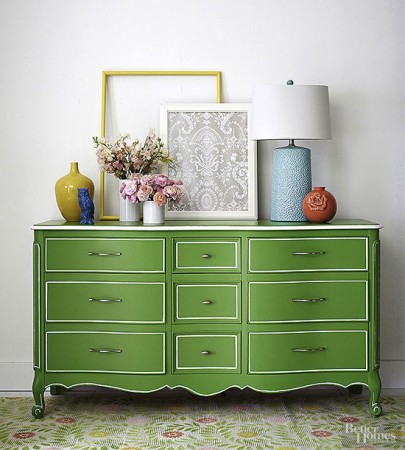 Create patina with paint and sandpaper.  Give painted furniture an aged look by rubbing off the top layer in areas that are naturally worn with age, like corners and the edge of drawers.
You don't have to use flat paint for furniture.  Try a metallic paint to give furniture a lush appeal.
Paint a stenciled design on drawers for a custom look.
Highlight only parts of a furniture piece with white paint.  This makes the piece stand out and adds a touch of charm.
Go for the unexpected and paint large stripes on a chest, paint a traditional piece bright pink or aqua and mix it with natural wood finishes for a pop of color and character.
Create a design and paint a collection of furniture all the same.  Pieces like this are perfect for a child's room, nursery or even the guest bedroom.
If organization is your game, use chalkboard paint on a chest or sideboard to store items and label the drawers with chalk.
Decorate a chest with stenciled designs for a fun and whimsical approach.
Hand-painted designs can be very romantically charming or exotically beautiful and are wonderful accents for the home.
To add a little something different to the dining room, paint the chairs a bright color and leave the table in its natural wood tone.  This creates a modern edge and gives a fun pop of color to the room.
Break out the colors and paint a piece in multiple vibrant hues.  Have fun and add personality and charm to tables, chairs and chests.  Try out checkerboard patterns, lattice, flowers, stripes and free-style.  These pieces are sure to be conversation-starters.
Don't be so fast to get rid of furniture or pass it by at the flea market.  Give old furniture a new life with paint.  Enjoy the creative process and experiment with colors, finishes and designs.  You will be pleasantly surprised how a coat of paint can transform a piece of furniture.