The sophisticated modern man is not necessarily all about man caves, pool tables and other clichés that drive the male persona.  Today's sophisticated man is about high levels of taste and quality in a home interior.  He seeks comfort and functionality in design.  Let's explore masculine interiors for the sophisticated modern man.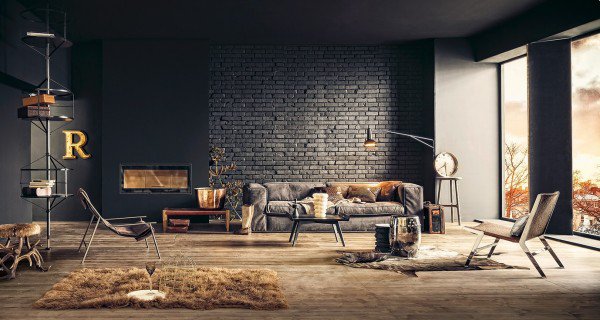 Black painted trim or black walls are a sophisticated alternative to basic neutrals.  Black frames a room and gives it definition.  Black can be very masculine when combined with leather and classic furniture pieces of simple yet elegant design.
A lighter, fresher palette is just as appealing and serves the masculine style well when paired with furnishings that are simple in design and cater to comfort and function.
Leather is a perfect element for the masculine interior, for it is rugged and stylish.  When comfort and style are paramount, leather furniture fits the need.
Statement accessories and natural artifacts mix well with the masculine style.  Larger, more substantial furnishings support the same in decorative objects.  Big and bold, especially in open space living, can be quite appealing.
A clean, modern space speaks to the sophisticated man who enjoys a home that conveys openness and light.  Functional pieces that cater to comfort while contributing to the overall aesthetic furnish this style of home.
For the man who likes to surround himself with art and curiosities, a modern space plays harmoniously along.
Gray interiors are like slipping on a snazzy and classic wool suit.  They exemplify sophistication.  Infuse warmth with lightly stained wood on floors and furnishings.  Include beige, cream and taupe upholstery and accessories.
The sophisticated modern man is about understated elegance with a masculine edge.  Spaces are multi-functional, comfortable and very stylish, incorporating all the modern conveniences.
The home of the sophisticated modern man is cosmopolitan and richly augmented with art, clean lines and stylish comfort.