The tranquil sound of water flowing is mesmerizing.  It can relax and renew.  Having a water feature such as a pond or fountain in your home gives your space a tranquil vibe and can be a soothing addition.  Follow the flow of beautiful water features for tranquility in your home.
This luxury home is surrounded by glass and accented with flowing water from inside to outside.
A stream is embedded within the tile flooring of this home.
Imagine the soft trickle and flow of water as you relax and enjoy the day in this modern home.
Water flowing under the staircase is a relaxing and beautiful statement for this home.
Give your home interest and a spot for relaxing with a pond for koi fish.
This glass-topped pond of water is a centerpiece for this home next to a wine room.  Enjoy a glass while gazing in at the river rocks.
A pond of koi fish gives these modern homes a spot for relaxing and adds a strong statement piece to the space. Also, keep in mind that if you have an indoor koi pond you need to improve the quality of your water for maintenance.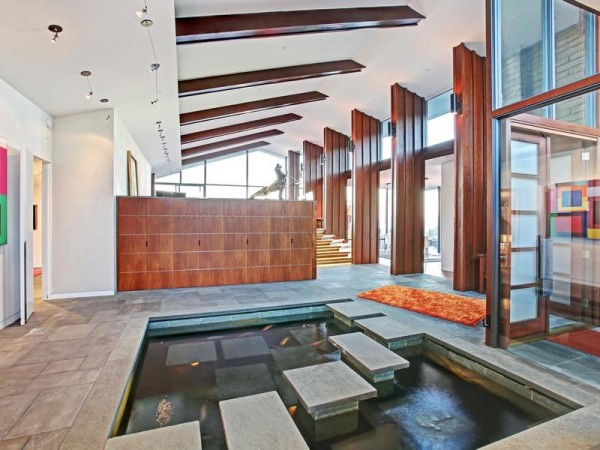 A pool with fountain next to this seating area provides a tranquil spot.
A water feature mirrors the pool outside in this home, giving it a very peaceful aesthetic.
The movement and sound of flowing water is inviting.  It calms, relaxes and helps you to feel more at peace.
This unique tiered fountain provides a stunning feature in the entryway of this home.
A fountain can be placed anywhere, even on a kitchen bar.  This unique feature highlights the kitchen.
Wall fountains are the perfect accent if you want a water feature that is easily installed.  These fountains provide beautiful aesthetics as well as water flow.
If you want to add a unique feature to your home, consider the tranquility of a pond or water fountain.  Decorative and relaxing, water features in the home can give you endless hours of tranquility.