If you find tradition exhausting and are ready for a fresh change in your Christmas décor, try a new color scheme or a unique tree.  Here are 34 alternative Christmas colors and decorating ideas to inspire a change this year.
 Modern Pastels
2.  Fuschia
3.  Simple Elegance
4.  Christmas Tree Art
5.  White Tree, Eclectic Mix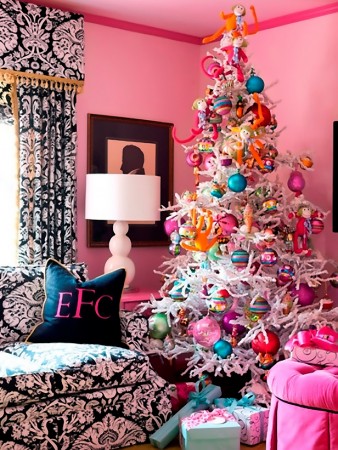 6.  Pile on the Ornaments
7.  White and Green Refinement
8.  Modern Metallic
9.  Green and Blue
10.  Joyful Colors
11.  Aqua and Red
12.  Peacock Wonder
13.  Sweet and Simple
14.  Purple and Gold
15.  Red Tree
16.  Eclectic Crafts
17.  Modern Turquoise
18.  Hang Your Christmas Cards
19.  Draw it on the Wall
20.  Purple and Black
21.  Coral and Aqua
22.  White Fir and Only Glass Balls
23.  Lilac Quilted Creation
24.  Ephemera Tree
25.  Branch Out
26.  Silver Shimmer
27.  Yellow, White and Gray
28.  Cool Blue and Silver
29.  Feather Elegance
30.  Gilded Blue
31.  Lovely Lavender
32.  Soft Persimmon and Gold
33.  Chalk and Pom-pom charm
34.  Pretty in Pink
This Christmas, break free from the red and green and try something new.  Create a tree that is meaningful and artistic.  Coordinate your Christmas decorations with your existing home décor.  Shake things up with an eclectic mix.  Perhaps you will create a new tradition.