Your china cabinet is probably the last place you would look to find wall hangings.  Not so fast.  Plates are a great way to add color and interest to your walls.  Display them on wood plate racks, metal plate hangers or simply hang them on the wall in interesting patterns.  Decorating with plates gives you many options for creative wall displays.
When choosing plates for display, you can set a theme based on pattern, color or type of plate.  Display a group of similar dishes in varying sizes or plates in the same color family.  You may have collections of plates that would look great as a grouping on the wall.
If you have a collection of broken or mismatched dishes, use them to decorate an outdoor area.  Display them on a fence or deck railing.  Hang them on the side of the house by the patio or on the garden shed.
To come up with a design, lay the plates on the floor and experiment with different arrangements.  Then you can place them on the wall accordingly.  Use paper to cut outlines of the various plates and tape them to the wall to see how the arrangement will look.
An asymmetrical arrangement is an interesting way to work a plate display around furniture, such as a console table in the hallway.  Contour an arrangement of plates around a headboard or a curved cabinet for a pleasing display.
Spread a grouping across the wall over a sofa or fireplace.  Extend plates up the wall above a mantel on which plates are displayed.  Embellish plates with vintage photographs, ribbon and other mementoes for classically charming style.
Display plates with artwork and other wall hangings and even layer plates on top of one another for interest and dimension.  Cluster plates closely together on the wall, overlapping edges, for added interest.  Hang plates within empty picture frames.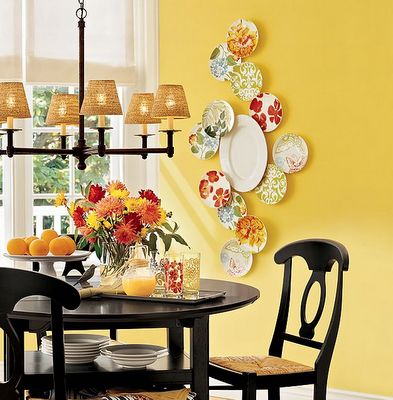 Decorating with plates has many possibilities.  Open up your china cabinet or search those back shelves of the kitchen cabinets for inspiration.  Stop saving the good china for a rainy day.  Take it out for display and enjoy it every day.