Pantone, the color experts, have named the color…..no, wait….have named the colors for 2016.  That's right.  For the first time ever, Pantone has named two colors for the year.  The colors are Rose Quartz and Serenity and they are indeed serene.  This pairing is reminiscent of a Caribbean sunset.  It pairs well with today's trending rose gold metals.  According to Pantone, it is a symbolic color selection that reflects today's mood and attitude.  Here are a few suggestions on how to use 2016's colors of the year for your interiors.
"Rose Quartz is a persuasive yet gentle tone that conveys compassion and a sense of composure. Serenity is weightless and airy, like the expanse of the blue sky above us, bringing feelings of respite and relaxation even in turbulent times." (Pantone)
A lighter shade of Serenity gives this room an elegant softness that conveys a serene and luxurious vibe.  Coupled with mirrored furnishings and creamy white upholstery, this room is welcoming and calming.  Add small accents of rose quartz for a nod toward 2016's color trend.  Top that off with crystal and metallic pieces for heightened drama and luxury.
The same luxurious and calming vibe is achieved with rose quartz walls paired with similar accents and furnishings.
A settee upholstered in rose quartz and draped in a throw of serenity gives this room a romantic and notable Parisian ambiance.  Mixing in a rose floral wallpaper with pastel green background further enhances the space and offers a soft contrast.
Paired with gray and soft aqua, rose quartz accents bring a slightly feminine touch to the bedroom.
Rose quartz window panels frame this soft blue room and enhance the natural light.  Mixed with soft grays and blues, this palette is sophisticated and modern.
Rose quartz can be used with other pastel colors to accent a room or as the central color palette.  Vary the shades for added interest and dimension.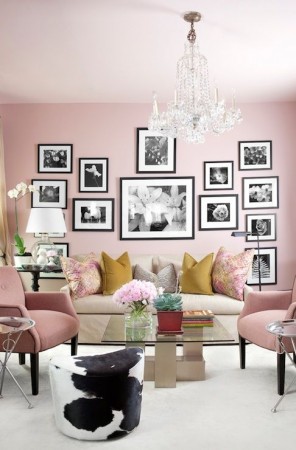 Using darker shades of rose quartz and serene create a modern and more lively space that is sophisticated.
Pairing lavender with serenity and/or rose quartz is an appealing color palette.  It is soft and luxurious.  Use a sheepskin rug for added softness and texture.
A sophisticated shade of pink, rose quartz makes for a lovely bedroom color.  A padded headboard, shimmering accents and plush bedding give this bedroom a warm and inviting aesthetic.
Incorporate touches of 2016's colors into your interior with rugs and other accents.  These colors blend well with cream, white and other pastels.
Relax and reflect with Pantone's colors of the year.  Pair them with this year's trending rose gold accents and crystal for modern luxury.  This dynamic duo will be showing up in fashion and interiors all over the world.  Embrace the symbolic vibe of these colors and create a home that is calming and elegant.