The top kitchen trends 2017 are still going strong. So if you are considering a kitchen facelift, have confidence in these design choices.
TREND 1: THE BLACK AND WHITE KITCHEN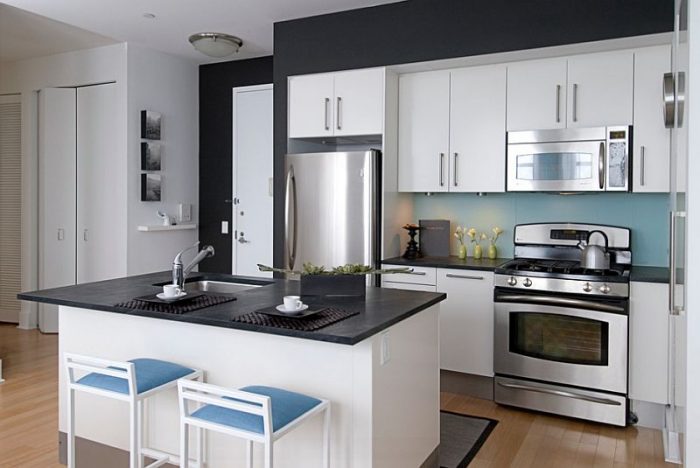 You read it here on Livinator earlier this year. Indeed, it has happened. We called the black and white kitchen a re-emerging trend. 
TREND 2: LARGE FORMAT FLOOR TILES
The list of top kitchen trends 2017 also includes large format floor tiles. Homeowners love the grand statement of these tiles.
TREND 3: GREEN PAINTED KITCHEN CABINETS
Since Pantone named Greenery the 2017 Color of the Year, people have gone ga-ga for green. This includes painting the kitchen cabinets.
TREND 4: OPEN SHELVING
TREND 5: BLACK APPLIANCES
After a brief run of popularity in the late 1990s, black appliances fell out of favor. In opposition to the sterile look of stainless steel and white, they are back!
In conclusion, the homeowner giving thought to a kitchen renovation is lucky! Indeed, she has the choice of some trends based on classic, clean colors that will last long after the kitchen remodel is completed.