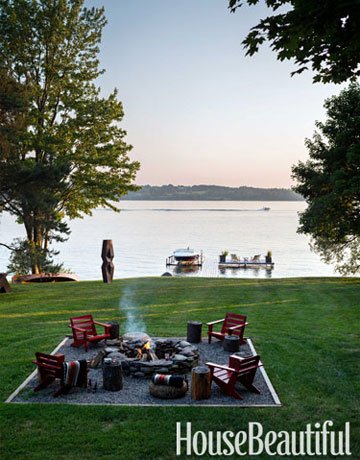 Whether you have a porch, patio or pool, take into account some of these fabulous design ideas for your outdoor living and create a luxurious outside lounge.
Beach House Patio
A 1960s patio furniture can be used to create a nice patio. This set of furniture is modern without being stark or petite. It easily goes with the setting as there is not a lot of room out there.
A Fire Pit
What an amazing place to gather around than around a fire pit. A fire pit, a dock and steel sculpture are all used in designing an outdoor place in an upstate New York lake house. The yard looks rustic and sophisticated.
Limestone Veranda
Use the greys and ivories of the interior against the greenery and use limestone tiles to contrast the veranda with greenery around.
Colourful Outdoor Dining
Get furniture and set is outside for alfresco dining under a century old oak tree. Contrast the table, chairs and bench with colourful rugs and pillows as well as glasses. Also use flowers to create an added effect.
A Sleek Rooftop Retreat
Decorate your rooftop with white cushioned sofas and a coffee table. The vibrant pink pillows encourage lounging.
Back Porch
Get a swinging day bed built and cover it with one of your favourite tablecloths. Use colourful pillow colours to make the porch look lively. An antique sword fish can complement the swinging day bed.
Ocean Side Escape
A view of the ocean is all you need to relax, but a beautifully decorated terrace will not hurt either. The dark furniture also grounds the expansive ocean side terrace.
Related links: https://www.daringabroad.com/best-trundle-bed-daybed