We've probably all seen unique houses in our travels and even seen round houses on occasion.  Have you ever wondered what it would be like to live in a round house or considered decorating a space in your perfectly angled home in the round?  Here are some unique round homes and ways to decorate in a circular design layout.
A round house has no corners and the walls gently curve to embrace you in its curves.  If the home is multi-level, a curving staircase adds to the drama of the circular space.  Rooms flow into one another without any sharp angles.  The round house is graceful and organic.
From the outside the round house is unique and seems to fit right into the landscape.  Its organic shape is appealing and pleasing to the eye.  Beautiful windows and other architectural features can make the round home truly beautiful.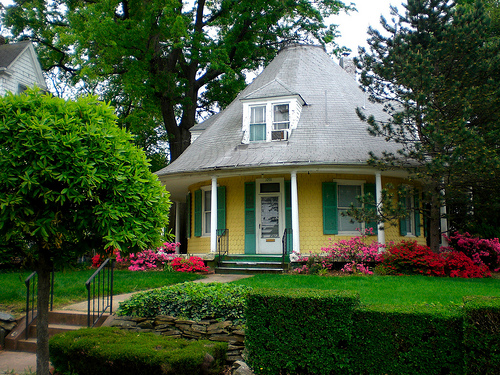 Decorating the round house has its own challenges.  Modular sofas that gently curve and form circular seating areas around a round coffee table work well, but you don't have to conform every bit of furniture to the round home.  Open floor plans are more apt to be the norm for round houses, thus giving you the option to decorate freely as you would a traditionally shaped home.
To create a rounded room in any home is easy.  For the dining room, add a circular ceiling element.  Create a circle with architectural molding or create a round enhancement for the ceiling.  Use a round dining table directly under the ceiling feature.  To carry the theme throughout the room, repeat the circle pattern in the rug, fabrics or accessories.
For the living room, create a raised circular floor and place furniture around the circle.  If this is not an option for you, simply use a round rug and place a curved sofa around the rug, choose a round coffee table and add accessories that repeat the pattern.
The round house is unique.  Organic in nature, it flows right into the landscape.  Decorating a round house has its challenges but you don't have to conform to its shape for your interior design to be successful.  With stunning views when built with wraparound windows, the round house is where you can feel a warm embrace and relax in chic comfort.