Upcycled furniture projects are fun weekend projects. In fact, you can complete a projects from start to finish in just two days.
What is upcycling?  Upcycling is taking an unwanted item and making it into something new.  In short, you are making an unused item into something useful.
We upcycle for many reasons. Clearly, upcycling saves money. If you can find a cheap but sturdy item at a yard sale, that's great! However, it's even more fun to score a free item off Craigslist.
However, many people upcycle for other reasons as well. For starters, upcycled furniture is unique.  There's nothing as cool as a one of a kind piece.  Especially if it's yours!
Other people enjoy the satisfaction of working with their own hands. Simply put, it's fun to finish a project and admire it.  Especially when you know you did the work yourself.
Obviously, upcycled furniture takes vision. Also, it takes creativity. You must think outside the proverbial box. Successful upcyclers see past the ugly parts of an old item. They see the potential beauty and purpose of the new item.
Finally, upcyclers need basic tool skills.  If you can use a few hand tools, you can upcycle! Better yet, pull out the power tools if you have them.
However, you also need a touch of patience. I have sidetracked my own projects by being impatient. For example, paint actually needs time to dry between coats.  Trust me on this. Also, take time to measure accurately. Nobody wants a wobbly table! This, too, I know from experience.
Let's go on a virtual shopping trip to find old but useful items.
UPCYCLED SUITCASES:
I always see vintage suitcases at flea markets. These darling coffee tables are made in only a couple of hours. Also, they are super easy to make.
Because these are upcycled, they are unique to you!
Moreover, this coffee table is cute and offers a great place to hide clutter.
UPCYCLED DOORS:
Old doors are also a frequent find at yard sales. However, old doors are so useful. Of course, I love that they are relatively cheap!
As an avid DIY'er, I can promise you this.  Wood is expensive. Save some money (and a tree) and purchase old door when you can.
This dining table was created from an old door. The builder probably screwed the door into the frame of an old table. This saved two useless items from the landfill.  This scope of project takes two days due to the time for the coats of paint to dry.  Again, patience is often the key to success in DIY projects.
The next upcycler provided his daughter with a darling upcycled headboard.  He constructed it from an old door and two shutters.  The distressed finish adds a beachy, shabby chic feel.
UPCYCLED HEADBOARDS:
Conversely, our next upcycler used an old traditional headboard to create a bench. This adds a charm to an entry way or mudroom.  What a great place to sit down and take off your shoes!
UPCYCLED COFFEE TABLES: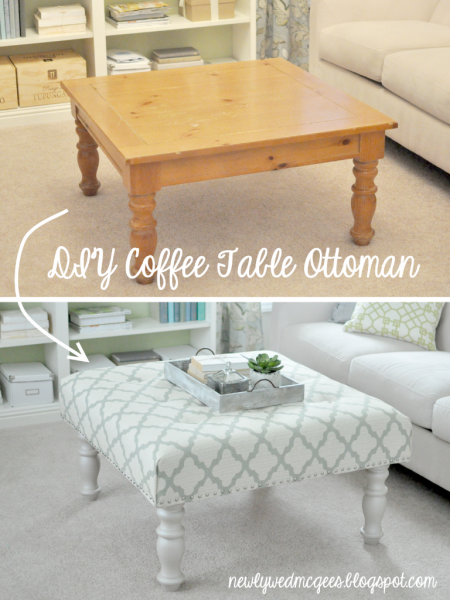 Also, I often find old coffee tables for only a couple dollars at yard sales. Better yet, I see them tossed out with the trash all the time. When you turn an old coffee table into an ottoman you are upholstering it.  This means that old scars and stains are not a concern. As long the table is sturdy, go ahead and take it!
UPCYCLED WIRE SPOOLS:
Wire spools are also frequently discarded. Of course, they are not as easy to find. However, they are literally thrown away by power and telephone companies. If you know somebody who works for a utility company, these can be upcycled.
This spool was upcycled into a children's book case.  It has character and is very sturdy. Unlike tall bookcases, this one can't be pulled over onto a toddler.
UPCYCLED DRESSER:
Upcyclers love discarded and unwanted dressers.  We repurpose them.  We restore them. At times, we even cut them down into new uses.  In fact, this gorgeous kitchen island is an old dresser.  New paint and a new top give this a new life.  Don't you love the hinged counter that flips up from the back?
UPCYCLED PIANO:
Finally, I saved the most interesting upcycled furniture piece for last. I don't take credit. I have never attempted anything like this.  In fact, I wouldn't even have thought of it.  Because it was broken, dirty and stained, it was landfill bound.  A creative upcycler saw this and upcycled it into a bar. Genius!
In conclusion, use your creativity and create your own upcycled furniture.  I promise you will be proud of your creations!