Hotel lobbies are some of the most breathtaking examples of interior design.  They deliver an awe-inspiring glimpse into a world that is luxurious and grand.  But aside from introducing us to extravagance, hotel lobbies can teach us about interior design.  Let's explore some of the ways.
1. Lighting
Extravagant chandeliers, innovative lighting solutions and key illumination features abound in hotel lobbies.  Note how hotel lobbies are illuminated with well-balanced light.  The use of ceiling fixtures for general ambient light, accented with stunning chandeliers, provides the majority of the illumination.  This light is augmented with accent lighting through wall sconces, light panels and lamps.  The end result is a space that highlights every nuance of architecture and décor at its best, while displaying some of the most breathtaking fixtures in the world.  Add to that innovative lighting displays integrated into the architecture and you have an ambiance like no other.  This teaches us the importance of a well-thought-out lighting plan that includes ambient, accent and task lighting.  Including a one-of-a-kind chandelier as a centerpiece is always in style.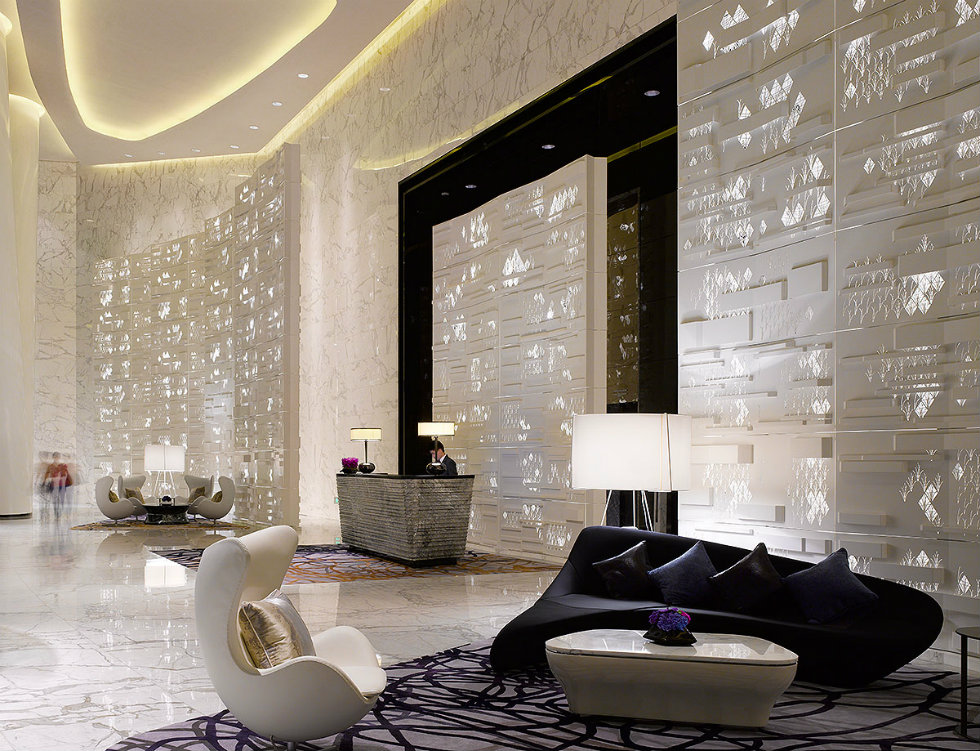 2. Surface & Texture
A variety of materials are used in hotels to achieve state-of-the-art décor.  Surfaces are constructed of stone, glass, wood and a variety of manufactured composite materials to achieve a design that is welcoming, cutting edge and awe-inspiring.  High-gloss marble floors, varied textures on walls and ceilings that undulate gracefully are some of the highlights of hotel lobby surfaces.  This teaches us that a varied use of materials can elevate a space and pull the design together in quite unique ways, while a variance in texture creates spaces that are interesting and highly dimensional.
3. Architecture
Pillars, extravagant moldings and tiered ceilings integrate with glass window walls, sweeping staircases and uniquely constructed architecture.  Hotel lobbies are designed on a large scale and achieve a worldly look.  Architectural elements take these spaces further and this teaches us to consider the relationship between space and design.  When designing your own space, consider the architecture of the room and highlight the interesting while being true to the space.
4. Line
In design, line is a basic principle.  Line provides a visual connection in the design to keep the area consistent with a good flow.  These lines can be visual or implied through the use of color, shape or style.  Stripes in upholstery can be repeated in other areas of the room, such as in the lobby pictured below.  Integrating geometric shapes into a design establishes a line when repeating that element elsewhere in the room.  You will notice that a theme is carried through the entire lobby space of hotels. Even the patterns on the floor create a constant flow throughout the lobby.  This teaches us that consistency and flow are key to a successful design.  Visually connecting spaces keeps the design consistent.
5. Innovative design
Taking design to higher, more unexpected levels is what designers do best in hotel lobbies.  Creating spaces that are innovative and unique sets apart the hotel.  Many hotel lobbies boast one-of-a-kind artwork, sculpture, architecture, lighting, furnishings and accessories, among other items.  Being aware of new designs and technology can bring your home into a whole new realm.  This teaches us to explore and expand our ideas relating to design.
6. Style variety
Individual hotel lobbies explore many design styles.  One hotel may be designed with a likeness to a grand Roman palace while another may adhere to a more modern aesthetic.  No matter the style, hotel lobbies are superb examples of creative and detailed designs.  While mixing styles may be a trend at the moment, hotel lobbies tend to display a more disciplined style dynamic.  Hotel lobbies can teach us discipline when it comes to defining a particular style.
Hotel lobbies can be extravagant, bold and awe-inspiring.  They are examples of the immense talent of architects and interior designers.  They make visitors feel welcome and enveloped in luxury.  In addition to this, hotel lobbies can give us invaluable insight into the world of design.  Hotel lobbies teach us about lighting, surface and texture, architecture, line, innovative design and style variety.  Planning a trip soon?  Book a room in one of the world's most extraordinary hotels and experience this for yourself.