Scandinavian designs borrow from the natural beauty of Northern Europe. So your Scandinavian bathroom should feature natural wood mixed with bright accents, a bathing unit, and vanity, all arranged in minimalist space.
White and Beige are standard shades in Scandi bathrooms, but you can get as creative as blue, yellow, purple, grey, and so on.
The Key Features of Scandi Style
So how do you arrange a bathroom in Scandi-style? Well, here are the four main features of Scandinavian design.
Simplicity or plainness
Purpose or utility
Roominess or open layout
Stylishness
Start by reducing congestion—to create more room— and then choose a theme color. Next you can invite nature, add some functionality i.e., cabinets, towel hangers, etc., and then add simple decoration.
Arranging Your Scandinavian Bathroom
Step by step, let's go through what makes a Scandinavian bathroom.
1. Luxury and utility
Plenty of space and cozy fabrics can bring comfort to your Scandi bathing space. Placing your bathing units and vanity strategically can go a long way in making it more purposeful.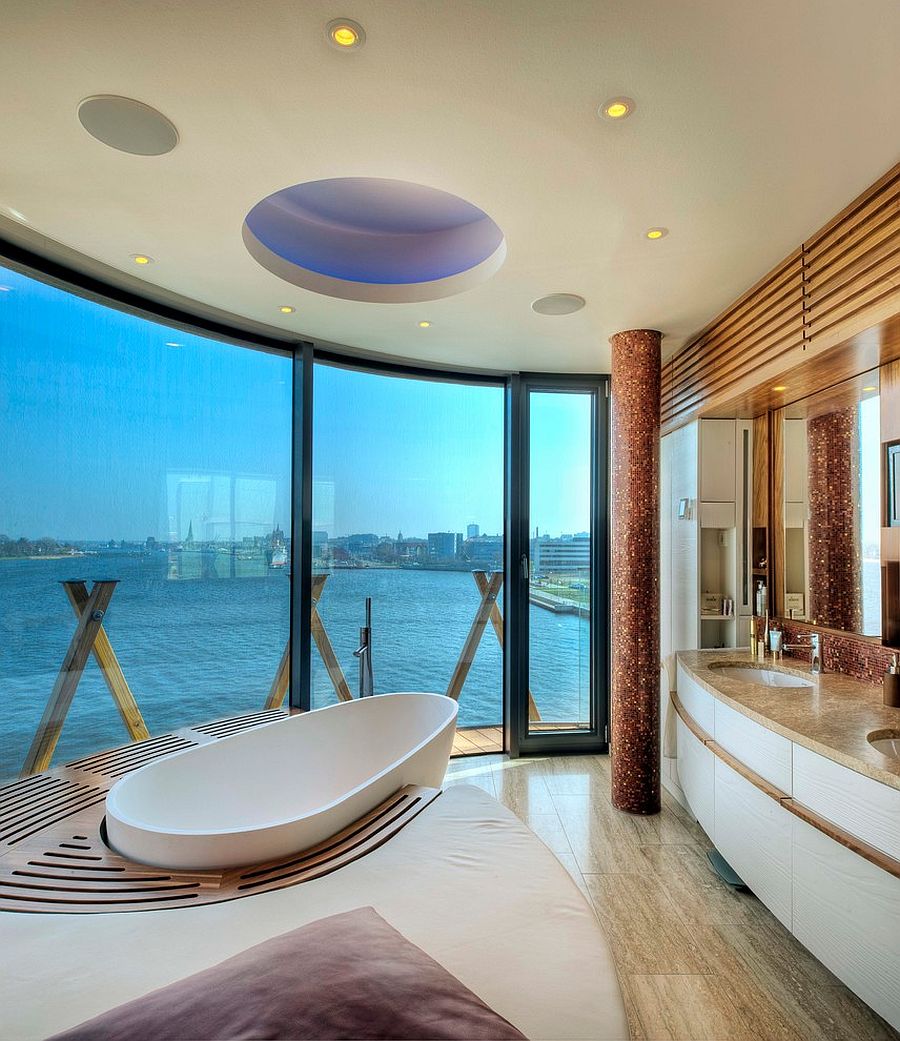 So whether your space is small or large, you can still figure out how to make your Scandi useful and find the right colors to make it lively.
Lastly, accessories like towel holders, sinks, and so on can also help add class and purpose to your bathing space.
2. Lighting
Your options are endless when it comes to lighting a Scandi bathroom. You can use windows, either floor-to-ceiling or regular-size, and complement these with strategically placed reflective mirrors.
Ceiling lights are also common in Scandinavian bathrooms. And for more deco and a brighter room, add some lighting above your sinks and vanity.
3. Material and Shades 
White is a standard in Scandinavian designs, but Beige and grey are also popular. If you want a different shade or palette, then you can go with blues and greens.
Monochrome—or the use of a single dominant color broken with thin lines of a contrasting shade—also looks beautiful in a Scandi space.
Natural wood must appear in your Scandinavian bathroom—whether on your ceiling, on the vanity, or any other place you see wise.
Make sure to protect your exotic timber from water as damp conditions may interfere with their natural beauty. Or to avoid such problems altogether, use water-resistant exotic wood such as teak or iroko.
For flooring, tile your floors with ceramic that harmonizes with your timber. Ceramic tiles are an excellent pick, not only because they blend well with wood but also for their function and durability.
4. Accessorize your Scandi
Using free-standing ceramic bathing units like bathtubs, toilets, and so on can help create the spacing you need while accessorizing it.
However, you want to make sure your accessories blend well with your colors. Go for earthy shade and decorate with brightly-colored beautification.
Experiment with the wide range of bathroom accessories. For instance, a simple wooden ladder can also multitask as a decor and towel holder. You can also try small wooden bathroom cabinets and containers.
5. Bring in features of the sea or ocean
Another creative idea for a Scandinavian setting is to bring in elements of the ocean or sea. An indoor sea or ocean can stand out as the perfect decoration in a minimalist space.
Because you are keeping decoration to a minimum, an indoor ocean can help lock in everything away and stand elegantly in your bathroom.
6. Add vegetation to your Scandinavian Bathroom

Vegetation is a classic standard in Scandinavian design. However, you still want to remain minimal and straightforward when adding greens.
You can either use hanging plants or a free-standing plant a wooden vase or pot, or plants on a stand.
The Advantages of a Scandinavian Bathroom
So why would you consider the Scandinavian style in your kitchen;
You reduce clutter and get enough bathing space
It is a timeless design that will stand the test of time
You worry less about furniture because the aim is to reduce congestion
You worry less about the decoration because you have to keep it simple
And lastly, you get a cozy and multi-functional bathroom made to fit your custom needs. With all the available color and material choices, you can never run out of options.